A Teenager Just Bought a Local Paper to Challenge Social Media's Stronghold on News Distribution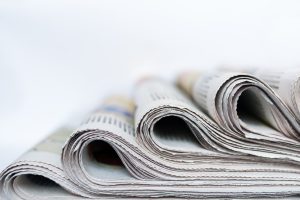 Throughout the election season, you may have heard that journalism is dead, the media is full of scumbags, and there isn't a shred of integrity left in the whole industry. Well, meet Hayden Taylor.
The 19-year-old just bought the Central Delta Argus-Sun's assets and is now preparing to beef up the paper, which serves Arkansas' Brinkley and Monroe counties. His family has been in the area for five generations, but he is taking the newspaper over from a woman who has been running it for just a little longer than he's even been alive.
He attended college for a year, never chose a major, and took no journalism courses, but he's not too worried about operating the paper. He plans to buy a few textbooks and read up, according to Arkansas Online.
He explained, "I think I'm more concerned about management and administration, how to make the bottom line work."
He has rebranded to the Monroe County Herald and will begin distribution to the paper's 1,800 subscribers this week. He plans to keep his focus local and highlight area sports and include shopping inserts for the grocery stores nearby.
As for why he wanted to do this in the first place, he said, "My friends think Facebook is where they can get 'local news,' and I just don't believe that. That 'news' isn't always news, and it's hardly ever really local."
When the paper does eventually get an online presence, Taylor believes he will put a paywall in place so that interaction is limited for people who aren't subscribers.
In spite of his apprehension about Facebook shares, he does want to feature columnists and guest writers in the Herald. That being said, he doesn't like the idea of having an editorial section that takes positions on the issues. He explained that too many opinions were "spouted" at him in recent months, so he won't be "spouting" his back. He doesn't identify with any one political party, anyway, but his dad did just win election to the Brinkley City Council.
His mother will serve as advertising director but assured Arkansas Online that her husband will get "no breaks."
[image: KAZLOVA IRYNA]
Have a tip we should know? tips@mediaite.com