Aaron Carter Just Endorsed Trump, So Let's Dive Down His Spiraling Twitter Rabbit Hole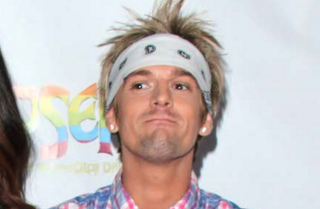 Aaron Carter endorsed Donald Trump! (Just like Chingy!)
I write this with absolutely no confidence that you know who Aaron Carter is, but as someone who grew up watching Lizzie McGuire and constantly begging my parents to drive me the next town over so I could they could buy more Hit Clips, I am here to tell you all about him. We can start with his glory days and then move on to his disastrous acquisition of an Internet-enabled smartphone. I have plenty of time.
First, to set the mood, behold the most important song of my youth, which one of my older, cooler neighbors burned onto a mix CD for me, thus revolutionizing my entire life:
The child dancing around with much older girls in that video made a few brief appearances on the Disney Channel, released some successful albums in the very early 2000s, dated Hilary Duff, and then began the aggravating descent into the Land of Former Child Stars that celebrity gossip consumers know all too well. (They can't all be Emma Watson.)
It started innocently enough, with a short-lived reality television show with his former Backstreet Boy brother, Nick Carter, but then came the bankruptcy announcement. Then, things got weird when Carter tweeted about his ex-girlfriend, Duff, 12 years after they broke up. He had been 13 when they got together, so the theory that people who become famous early in life, like Michael Jackson, get developmentally stunted is starting to hold water.
Don't be that stupid douche that loses the love of your life forever..
Like me…

— Aaron Carter (@aaroncarter) March 5, 2014
Speaking of MJ, next, Carter went on a bizarre tirade about how Jackson passed "the torch" to him and also tore into people who were saying rude things about his appearance. Yeah, he did both of those things at once. On Twitter.
to all of the michael jackson haters that i got ( THIS) https://t.co/NqXIniGPBY IS WHAT MICHAEL MEANT WHEN HE "PASSED THE TORCH TO ME" LOVE

— Aaron Carter (@aaroncarter) December 2, 2015
A few days ago, he played a concert and fans were only engaged when he was playing his hits from 2000, no matter how hard he tried to roll out his new music. One fan described it as "sad," but stuck around to get a photo with Carter. When he asked if she would be buying his new album, she said, "Probably not."
That concert took place in Michigan and when a local reporter wrote about it, Carter tweeted at him with the following:
Yea you're done. Go drink some water and shut the fuck up https://t.co/qAjKfq2O8c

— Aaron Carter (@aaroncarter) February 25, 2016
Finally, today, he endorsed Trump. In true Carter fashion, he did it by simply retweeting the mogul on Twitter. After he got major backlash from his followers, he devoted the next four hours to tirelessly retweeting them and insulting them back.
One person posted this:
Ohh shit @aaroncarter is on one of his meth-fueled Twitter rampages again guys you gotta see this

— nevans (@NickEdwardEvans) February 27, 2016
(Carter captioned it, "You guys are pathetic lol")
He turned an accusation of racism into a reminder that he has toured and performed music:
I am NOT racist I've been touring the world & diversifying myself in a plethora of cultures since I was 7 years old https://t.co/WG61xZ8K3f

— Aaron Carter (@aaroncarter) February 27, 2016
He brought up Trump's show, which peaked in popularity around the same time his was declining:
I turned down doing the apprentice twice ? FYI

— Aaron Carter (@aaroncarter) February 27, 2016
And he brought it full circle by responding to someone who brought up the Jackson-torch-pass thing:
Did you know Michael ? Did he give you a jacket? Did you do a song called what more can I give with him & open msg? https://t.co/d5yHtUCHMM

— Aaron Carter (@aaroncarter) February 27, 2016
Although he spent all day today using his Twitter to gain more headlines — and, hey, look, I'm giving one to him, so really, he plays the game well — he did say this, which is an interesting concession from someone who has never demonstrated an ability to recognize when a ship is sinking:
Well based upon all these tweets I'm getting it doesn't look like @realDonaldTrump is gonna be president ANYWAYS ? https://t.co/7hXKHIDubI

— Aaron Carter (@aaroncarter) February 27, 2016
There will likely be no major effect on the Trump campaign. Things of much greater magnitude have made no impact, after all. Indeed, the entire thing seems to have been an effort to generate attention for the endorser, not the endorsee. In the world of politics, he has simply added his name to a list of other, more notable people; in pop culture, he brightened his star ever so slightly.
Carter may well have a career ahead of him in any number of things, from production to management, but singing and politics seem to be off the table for now, so maybe social media should be, too.
[image via screengrab]
For more from Lindsey, follow her on Twitter.
This is an opinion piece. The views expressed in this article are those of just the author.