Aaron Schock Sure Knew About Congressional Ethics Rules When He Judged Top Chef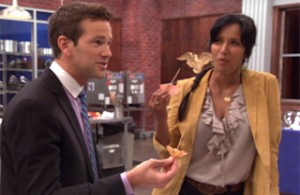 This morning, Rep. Aaron Schock (R-IL) hastily told a reporter from Politico that he "certainly hope[d]" that he did not break any Congressional ethics rules — "I'm not an attorney," he said. Maybe not, but when he was lecturing a group of Top Chef contestants, he certainly seemed to have an intimate knowledge about at least one of those rules — one that years later, he very well may have broken.
Schock is currently under fire for a lot of things: accepting tens of thousands of dollars' worth of free decorating services, allegedly using taxpayer money to pay for lavish hotels and Katy Perry tickets, and misreporting expenditures (once, for a private jet to a Chicago Bears game.) Schock recently promised to run his expenses through a third party, and admitted that his jet-setting lifestyle, documented meticulously on Instagram, may have given the impression that he was out of touch with his constituents.
In 2010, on the Bravo reality TV series Top Chef he certainly gave the impression that he understood, almost authoritatively, Congressional ethics rules. Season 7, filmed in Washington, D.C., like many seasons of Top Chef, held challenges thematically based on the season's location. During that one, he was invited to guest judge a challenge inspired by — yes, seriously — ethics rules dictating what members of Congress can and cannot accept as gifts.
In this case, the "gift" was food: an ethics rule passed in 2008 dictated what sorts of food and meals members of Congress could and couldn't accept. Food at receptions, for example, as long as it could fit on a toothpick and could be eaten while standing up, were kosher. The argument went that lobbyists could buy undue influence by treating members of Congress and their staffers to free steak dinners and the like — but not just by serving a steak on stick. (Citizen.org has a thorough breakdown of the meal restrictions on members of Congress.)
So when host Padma Lakshmi announced that the challenge was to create a gourmet dish that could fit on a toothpick, she tapped Rep. Schock, then the youngest member of Congress. In what now appears to be a completely forgotten and likely regrettable memory, he provided a quick lesson on Congressional ethics rule:
When you become a new member of Congress and win an election, the first day is spent on ethics. Believe it or not, a good portion of that discussion is about food. Basically, the Ethics committee wants to make sure that there's not too much undue influence between the elected officials and the paid lobbyists in Washington, D.C.
Now, of course, Rep. Schock is being slammed with accusations that he violated that very rule in failing to report free drinks and dinners at high-end restaurants while traveling to London in 2011. Politico reports that Schock was invited as the plus one of a guest at the Prince of Wales Foundation, and that his attendance was not connected with his Congressional duties. If it was, it might have allowed him to accept free meals in what is known as a "widely-attended" event exception. (He also could have attended if he received the gift from a "personal friend" and recorded that gift on his financial disclosure forms. We have not found any records of such a gift in his annual disclosure forms via Legistorm.)
Given the revelations about Schock's other alleged ethical lapses, and given the rising calls from conservatives that he resign, this ethics-related appearance on Top Chef may provide further support for those who want him to "pack his knives and go."
Watch below via Bravo:
— —
>> Follow Tina Nguyen (@Tina_Nguyen) on Twitter
Have a tip we should know? [email protected]