Aaron Sorkin: The Press 'Aided and Abetted Terrorism' in Reporting on Sony Hack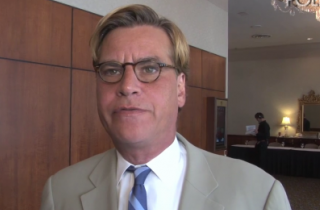 Aaron Sorkin's still pretty steamed about the press coverage of the Sony hack last year, declaring that the media "aided and abetted terrorism."
The Sony hack, for anyone who needs a refresher, was a huge deal in Hollywood––with private emails of Sony executives released publicly––and believed to be connected to the release of Seth Rogen's movie The Interview, which ended with the death of Kim Jong Un. (Sidenote: in hindsight, it's a little weird we all freaked out over a Seth Rogen movie, right?)
Well, the hack included details about Sorkin's Steve Jobs movie, opening this month, with the revelation that Tom Cruise was considered for the role of Jobs.
Well, in promoting that movie this week, according to The Hollywood Reporter, Sorkin ranted a bit about how the media was "a willing accomplice, an eager accomplice to terrorism" and "I don't know how these reporters who printed the stuff can look at themselves in the morning."
The Newsroom auteur continued:
"You cannot tell me that an argument about Angelina Jolie is newsworthy or what Cameron Crowe's troubles are in post-production on Aloha is newsworthy or any of the Steve Jobs stuff was newsworthy," Sorkin said.

He added that the Sony hack was a "low point" for the American press, which he claimed had "absolutely aided and abetted terrorism."
Last December, when the hack was all over the news, Sorkin said the reporting was "morally treasonous" and helped the terrorists remove The Interview from theaters.
[image via screengrab]
— —
Follow Josh Feldman on Twitter: @feldmaniac
Have a tip we should know? tips@mediaite.com
Josh Feldman - Senior Editor