ABC News Questions Ties Between Newt Gingrich's Charity And For-Profit Business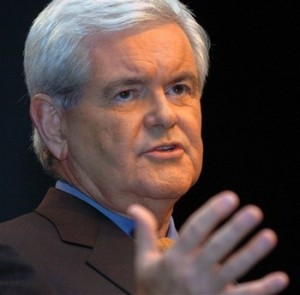 GOP presidential hopeful Newt Gingrich is flirting with a good old-fashioned scandal that has absolutely nothing to do with Twitter. Gingrich's non-profit charity, Renewing American Leadership (which dedicates itself to fostering religious discussion in the public arena, among other goals) evidently paid $220,000 in cash over a two-year period to Gingrich Communications, one of Gingrich's for-profit companies. In addition, the charity featured Gingrich on its website and its fundraising material, and also purchased cases of Gingrich's books and DVDs produced by Gingrich Productions.
When asked about the murky line between his charity and for-profit business enterprises as he left a campaign event in New Hampshire, Gingrich told an ABC News reporter that "I'm not concerned about that. The American people aren't concerned about that. Try covering the speech."
ABC News has, in fact, been looking into the charity's dealings for some time now, finding evidence of the payments to Gingrich's business in a May 2011 audit commissioned by the West Virginia secretary of state's office. Prior to his resignation, Gingrich spokesperson Rick Tyler told the news network that Renewing American Leadership "did nothing to promote anyone's political career."
However, Daniel Borochoff, president of the American Institute of Philanthropy, spoke with ABC News explained how Gingrich is able to work around federal requirements regarding disclosure:
If you're a director and you're doing business with the charity, it has to be disclosed, these are federal requirements. But the fact that [Gingrich] is not a director or an employee, he can skirt those disclosure rules. He doesn't have to disclose if he's selling things to the charity or receiving money from the charity.
That said, Gingrich could face trouble if it turns out that he is benefiting politically from access to the charity's mailing list with the identities and contact information of people supportive of Gingrich's appeal to promote religious discussion. Explains Borochoff:
If in fact Mr. Gingrich is receiving [Renewing American Leadership's] list for free then this is an abuse of the American charitable organization system. Charitable organizations are not allowed to intervene in political campaigns. Generating and then giving away a list of donors, who support and share the views of a particular political candidate is a misuse of tax-subsidized, charitable resources.
Gingrich declined to participate in an ABC News interview about this matter.
h/t ABC News
Have a tip we should know? tips@mediaite.com