ABC News Report On Glenn Beck Rally Features Civil Rights Leader Comparing Tea Party To KKK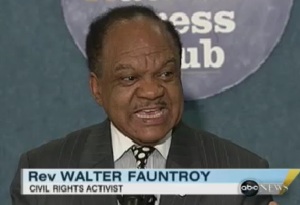 ABC News's Claire Shipman filed a report this morning on Good Morning America about Glenn Beck's "Restoring Honor" rally, which featured Reverend Walter Fauntroy "We are going to take on the barbarism of war, the decadence of racism, and the scourge of poverty, that the Ku Klux — I meant to say the Tea Party… you all forgive me, but I — you have to use them interchangeably." On his radio show, Beck slammed the ABC story, comparing it to "Something Goebbels would do."
Rev. Fauntroy, a former non-voting delegate for Washington D.C, was speaking during an appearance at the National Press Club, when he misspoke. And while his clarification may have been said in jest as his defenders will likely claim, they is little question that the words he chose are inflammatory at best, and irresponsible at worst.
Glenn Beck shot back at ABC News, for what he deemed to be a one-sided portrayal of his "Restoring Honor" rally planned for this Saturday. Scott Whitlock reports for NewsBusters:
On his radio show, Friday, Beck complained about the "hatchet job." Shipman clearly distorted the context. He actually said, "Whites don't own Abraham Lincoln. Blacks don't own Martin Luther King. Those are American icons, American ideas and we should just talk about character." (H/T to The Right Scoop and Noel Sheppard.)

Playing the segment on the radio, Beck hyperbolically declared, "That's what Goebbels did. The truth didn't matter." Now, while ABC should be criticized for the dishonest editing job, it is over-the-top to play the Nazi card.
Watch the ABC news clip below: (H/T – Breitbart.TV)
Have a tip we should know? tips@mediaite.com
Colby Hall - Founding Editor