ABC News Reports Benghazi Talking Points Were Revised 12 Times, Terror Reference Was Omitted
Report: Benghazi Talking Points Revised 12 Times, Terror Reference Was Omitted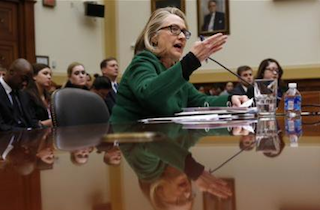 On Friday morning, ABC News' Jonathan Karl reported more information about the edited talking points, which have been a point of contention in the issues surrounding the handling of Benghazi. The White House has maintained they made only "stylistic" edits. Meanwhile, Karl's report said they were edited 12 times — and scrubbed a reference to Al Qaeda-affiliated group Ansar al-Sharia.
ABC News obtained 12 different versions of the talking points "that show they were extensive edited as they evolved from the drafts first written entirely by the CIA to the final version distributed to Congress and to U.S. Ambassador to the U.N. Susan Rice before she appeared on five talk shows the Sunday after that attack."
Karl reported that White House emails (also reported on by The Weekly Standard's Stephen Hayes) indicate the State Department had significant inputs in the edits, including the request to omit the terror reference and CIA warnings about terrorist threats in Benghazi. Some of the changes were made in response to concerns raised by State Department spokesperson Victoria Nuland. Specifically, Karl said Nuland objected to the following paragraph, which was deleted entirely:
"The Agency has produced numerous pieces on the threat of extremists linked to al-Qa'ida in Benghazi and eastern Libya. These noted that, since April, there have been at least five other attacks against foreign interests in Benghazi by unidentified assailants, including the June attack against the British Ambassador's convoy. We cannot rule out the individuals has previously surveilled the U.S. facilities, also contributing to the efficacy of the attacks."
Nuland didn't want to "feed" the possibility of Congress beating up on the State Department for not paying attention to warnings, and didn't want to "prejudice the investigation" by naming terrorist groups. (Initial edits were apparently not to Nuland's satisfaction, as she wrote, "These changes don't resolve all of my issues or those of my buildings leadership.")
Earlier this week, White House Press Secretary Jay Carney criticized the "attempts to politicize" Benghazi and said the edits made were "stylistic and non-substantive." In November, Carney said the talking points came from the intelligence community and reflected their "best assessments" of what happened.
"The White House and the State Department have made clear that the single adjustment that was made to those talking points by either of those two institutions were changing the word 'consulate' to 'diplomatic facility' because 'consulate' was inaccurate," he said.
As Karl noted, his report appears to "directly contradict" that.
Read the full report here.
Have a tip we should know? tips@mediaite.com