ABC Points Out Congressman Has No Evidence for ISIS Border Claim, But Won't Call Him Wrong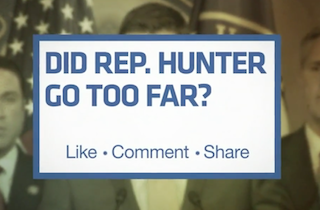 This is taking the "both sides" frame native to cable news to the point of absurdity.
On its perplexing Facebook tie-in segment Sunday morning, This Week wondered whether Rep. Duncan Hunter (R-CA) "went too far" in his claim that ten ISIS members were apprehended at the border, a claim he's been unable to support and one that was categorically denied by the Department of Homeland Security.
Outside news studios the word for that is "wrong," but in the strange epistemologically-agnostic zone of news commentary, where both sides always have equal weight even if one is a lawmaker expounding unsubstantiated claims, there's no wrong, there's just "going too far." Watch GOP strategist Matthew Dowd use words like oven mitts:
Many times fear doesn't have to be real to be powerful. And in the context of it, we don't often have to have facts to back up our fears. We respond to our fears. Everybody has the right to say what they want to say, but they have the responsibility to say what maybe they believe to be factually correct. The congressman says he believes it to be factually correct but with terrorism and as you say with the ebola thing, we should counsel our fears and look for the fact sets.
"What they believe to be factually correct" is a loophole the size of the border itself.
This is why people distrust the "media" — because they can't call something wrong, even when wrong is right in front of them.
[Image via screengrab]
——
>> Follow Evan McMurry (@evanmcmurry) on Twitter
Have a tip we should know? [email protected]