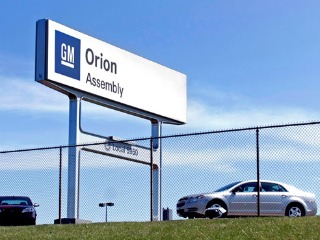 Steven Rattner knows a thing or two about the American auto industry. He oversaw efforts to restructure the nation's automobile industry as the former Counselor to the Secretary of the Treasury, and his knowledge of the industry and firsthand experience working with the White House eventually led him to write a book, Overhaul: An Insider's Account of the Obama Administration's Emergency Rescue of the Auto Industry. Today, Rattner noticed an interesting irony at play in the President's visit to the General Motors plant at Lake Orion.
RELATED: Mitt Romney Catches Hell For Flip-Flopping On The Federal Bailout For The Auto Industry
Barack Obama visited the plant today along with South Korean President Lee Myung-bak, in part to celebrate the recent passage of the South Korean free trade agreement. Why is this worth noting? Rattner explains:
The small car that is being made at the Lake Orion plant – the Chevrolet Sonic – was originally scheduled to be made in South Korea, where its predecessor was made. That was because with a traditional Detroit cost structure, cars like the Sonic cannot be made profitably in the U.S. But as part of the new agreement with the United Auto Workers in connection with the 2009 auto rescue, the U.A.W. agreed to permit 40% of the workers in the facility to be paid so-called "Tier II" wages, roughly half of what a traditional U.A.W. member earns.
Those Tier II workers, he adds, will take home under $30,000 a year for their efforts.
But, hey. They're working, right?
Have a tip we should know? tips@mediaite.com