Activists Achieve Goal of Raising Enough Money to Buy Church With Famous Homophobic Signs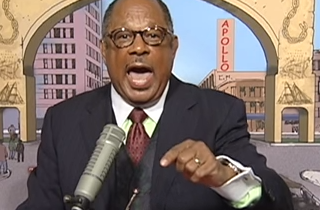 We here at Mediaite have brought you a few stories about the hate-spewing sign enclosed by a gate outside of the Atlah World Missionary Church in Harlem. Luckily, we probably won't ever need to do that again because an activist group met their goal of raising enough money to buy the church from its perpetually-angry, sometimes-raving mad reverend, James David Manning.
The church is $1.02 million in debt and is set to be auctioned later this month. According to The Village Voice, the Ali Forney Center, which is an organization that gives shelter and aid to homeless and at-risk LGBTQ youth, raised enough money to meet their fundraising goal in 12 days. They are reportedly confident that their $200,000 will be enough to secure them the church at the auction.
If they are successful, the Center plans to make "a safe haven for queer people" out of the space.
"We're confident we'll be able to go into the auction with a partner that will allow us to have not just an entry-level bid," said Carl Siciliano, the Center's founder and executive director. Because the building is historic, it is subject to zoning laws that make it almost impossible for the lot to be used to erect something like luxury housing or office buildings. If the building still manages to fall into the hands of a developer, Siciliano and his colleagues have a back-up plan: they will try to rent space there for $30,000 a month.
Manning, for his part, released a three-minute video for his "enemies" that refuted the idea that anyone will be buying his church to turn it into a "bath house" or homeless shelter "for the sodomites," who he deems, "sick as hell."
A direct quote from the above video is, ""When you start carrying a baby in your bags and birthin' that baby through your ass, then you can own this house, but till I see you pull a baby out your ass, you ain't gonna pull this church out from underneath of us. And boom shakalaka goes right there! And all you fags can go to hell!"
His wife, Elizabeth Manning, also insisted that they don't "plan on selling the church."
That's not how foreclosure works, though, so best of luck to them.
Take a walk down 123rd Street/Memory Lane now because the hateful sign won't be around for much longer no matter what happens. Here are some of the church's old messages:
Atlah Church preaches anti-gay message. Now @AliForneyCenter wants to buy for #LGBT youth housing. @wcbs880 pic.twitter.com/CnHAl6wFmB

— Peter Haskell (@peterhaskell880) February 1, 2016
.@LorettaLynch @AGSchneiderman, Political advocacy disqualifies #Atlah Church from tax exempt status. Make them pay pic.twitter.com/w9yl6FDUjV

— Claudia Miles (@claudiamiles) December 2, 2015
So Harlem's Atlah Church is still doing its thing. pic.twitter.com/yP7o5NstsX

— Casey Michel (@cjcmichel) November 28, 2015
The atlah church message board needs its own twitter feed. Classics for days pic.twitter.com/ykp5hTn1BO

— dolo (@doloyeung) November 28, 2015
Atlah Church Pastor Manning, a noted homophobe, admits to being tempted by gay "lifestyle". More than tempted, I say pic.twitter.com/NTKLMH7bYr

— Pitt Griffin (@pittgriffin) November 28, 2015
[image via screengrab]
For more from Lindsey, follow her on Twitter.
Have a tip we should know? tips@mediaite.com