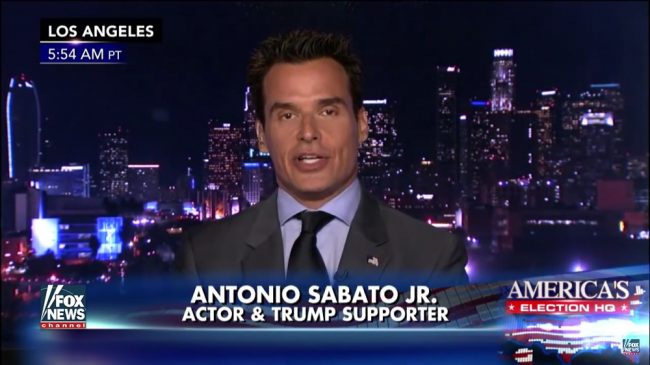 Former soap opera actor Antonio Sabato, Jr. will run for Congress in the 26th district of California, according to a Monday report in the Los Angeles Times.
Sabato, who endorsed President Donald Trump during the 2016 presidential race and spoke at the Republican National Convention that year, made a filing with the Federal Election Commission on Monday.
After his speech to the RNC, Sabato attacked former President Barack Obama: "I don't believe the guy is a Christian. I don't believe he follows the God that I love and the Jesus that I love." He added by claiming that "we had a Muslim president for seven and a half years."
The naturalized American citizen, who is a native of Italy, tore a page out Trump's playbook in a series of tweets about his congressional run on Tuesday:
Honored to be part of something great , love our country & I will continue 2 ..

— Antonio Sabáto Jr (@antoniosabatojr) May 9, 2017
fight for what is right , let's do it together all the way 2 Washington ??

— Antonio Sabáto Jr (@antoniosabatojr) May 9, 2017
The difference between me &the typical politicians is I work 4 you and with energy & integrity won't let you down ,starting with California

— Antonio Sabáto Jr (@antoniosabatojr) May 9, 2017
Love our country our military and the American people .. stand with me let's make it happen . #AmericaFirst ??

— Antonio Sabáto Jr (@antoniosabatojr) May 9, 2017
The incumbent in the 26th district, which covers most of Ventura County northwest of Los Angeles, is Democratic Congresswoman Julia Brownley, who has served since January 2013. Rep. Brownley won reelection in 2016 with just shy of 60 percent of the vote.
The Times report quoted Republican strategist Charles Moran, who confirmed the news of the run and will serve as Sabato's fundraiser. Moran underlined that the candidate "plans to focus on…veterans' needs and substance abuse."
"Being a Republican and with proximity to the White House and Republican leadership, he's going to be able to get more done — being in the majority, with his notoriety, for the residents of the 26th District," Moran stated.
[image via screengrab]
Have a tip we should know? tips@mediaite.com