Adam Carolla Clarifies: 'I Didn't Say, 'Women Aren't Funny. I Said That Men Are Funnier Than Women.'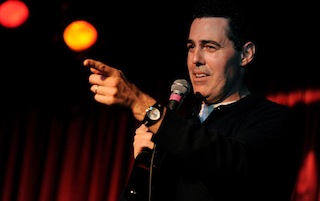 Now that Louis C.K. has given us the final word on that whole "Daniel Tosh rape joke" thing, it's time to look back at that other fairly sexist comedian controversy. You remember. The Adam Carolla one. The one where he was seemed to say that women aren't funny in a New York Post interview. Yeah, well, now he's clarified the statement. You see, he didn't say that women aren't funny, just that they aren't as funny as men. Duh.
Unfortunately, I'm pretty sure that comment isn't going to make this all better. Fortunately, I don't think Adam Carolla cares. At the very least, he really, really, really wants you to think he doesn't care. After all, in the UPROXX interview that the new comments are from, he implores his critics to "kiss [his] ass."
"Oh listen, I don't care. First off, I don't work for Viacom, CBS, Les Moonves, NBC, ABC, or FOX. I don't work for anybody. I have a podcast. I sell books and I sell theater tickets. Obviously, I was misquoted. I didn't say, 'Women aren't funny.' I said that men are funnier than women, because I was asked if men are funnier than women. I just told the truth, and then people took it and ran with it, and it's fine."
Carolla, who's currently promoting his new book, Not Taco Bell Material, by going on tour with conservative radio host Dennis Prager, went on to lament the "confusing" feminist movement ("Now we're in this kind of freefall, where it's hard to tell the sexes apart, and that's not a good thing.") and how politically correct everything is ("I'll put it to you this way – what percentage of comedians would want to tell you that they're voting Republican?").
It's an interesting interview, albeit not a particularly funny one. Perhaps that just means a woman wrote it.
Have a tip we should know? tips@mediaite.com