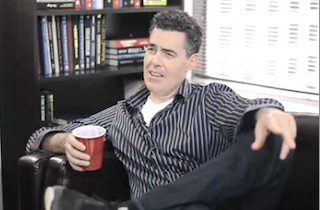 Comedian Adam Carolla sat down for an extended interview with The Daily Caller to promote his new book, President Me: The America That's in My Head
. And in a clip released Friday he weighs in on the income inequality debate by explaining the difference, in his mind, between the rich and the poor. According to Carolla's experience, rich people are fundamentally "better than poor people."
Carolla began by telling The Daily Caller's Jamie Weinstein that one of his goals is to become "the Al Sharpton of rich white guys," a mantle currently held by Donald Trump. When Weinstein pointed out that Carolla appears to advocate against "demonizing" rich people in his book, Carolla said he was willing to take that idea a step further.
"They're better than poor people. They just are," Carolla said of the rich. "I've hung around with plenty of poor people, now I've hung out with rich people. They work harder, generally. More focused. The folks I grew up with, the poor people I grew up with, fairly lethargic, did a lot of complaining, smoked a little too much, drank a little too much, blamed everyone but themselves a little too much."
RELATED: Adam Carolla to NPR: 'Do Your Research' Before You Call Me Racist
He said he did not buy into the notion that rich people in America are "born with a silver spoon" in their mouths, saying the rich people he knows got that way all on their own. Though he did say a lot of them grew up with a family that was "intact" and ultimately "enabled" them to go off on their own and become wealthy. Carolla also made the observation that rich people "give a hell of a lot more to charity" than poor people do.
On the issue of philanthropy, Carolla added that he has been criticized for not giving away enough of his money to charity. But then he realized, "I do the ultimate charity… I pay a shitload in taxes."
Watch video below, via The Daily Caller:
[Photo via screengrab]
— —
>> Follow Matt Wilstein (@TheMattWilstein) on Twitter
Have a tip we should know? tips@mediaite.com