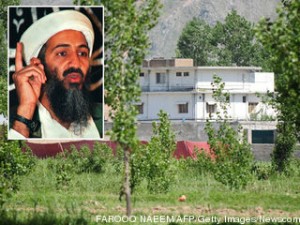 It was a fitting end for the America's most wanted man. As President Barack Obama's Deputy National Security Adviser John Brennan told it, a cowardly Osama bin Laden used his own wife as a human shield in his final moments. Except that apparently wasn't what happened at all.
Hours later, other administration officials were clarifying Brennan's account. Turns out the woman that was killed on the compound wasn't bin Laden's wife. Bin Laden may have not even been using a human shield. And he might not have even been holding a gun.
The narrative first unfolded in a televised briefing at the White House.
"Thinking about that from a visual perspective, here is bin Laden, who has been calling for these attacks, living in this million dollar-plus compound, living in an area that is far removed from the front, hiding behind women who were put in front of him as a shield," Brennan said. "I think it really just speaks to just how false his narrative has been over the years."
Pressed on the issue, Brennan said that it was his understanding that the woman killed was bin Laden's wife and that "she was positioned in a way that indicated that she was being used as a shield."
It's possible it may have been a mix-up of two separate incidents during the assault on the compound. As a senior administration official said at a Pentagon briefing Monday: "One woman, who was used as a human shield by one of the four military-age males on the compound, was killed; he was firing behind her. Two women, including one with Osama bin Laden, were wounded. And the rest were not injured at all."
But as Politico's Josh Gerstein reports, there's still debate over whether the woman who was killed was being used as a human shield at all.
Another official familiar with the operation said it did not appear that any woman was used as a human shield, but that the woman killed and the one injured were hurt in the crossfire. The official said he believed Brennan had mixed up the episode involving bin Laden's wife with another encounter elsewhere in the compound.

"Two women were shot here. It sounds like their fates were mixed up," said the U.S. official. "This is hours old and the full facts are still being ascertained as those involved are debriefed."
More details emerged at an off-camera briefing for television reporters Monday night, where a senior White House official said bin Laden was not armed when he was killed.

This post was written by Ryan J. Reilly for Talking Points Memo and appears here via a content sharing partnership.
Have a tip we should know? tips@mediaite.com