After Black Lives Matter Protesters Interrupt Rally, Trump Asserts: 'All Lives Matter'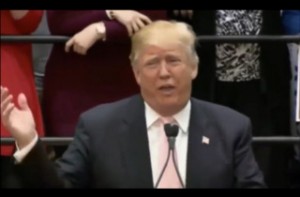 After a Black Lives Matter protest interrupted a Donald Trump rally Monday, the GOP frontrunner delivered with solemn gravitas the line that everyone had been waiting for. "All right, folks. You're gonna hear this. You're gonna hear it once," he said. "All. Lives. Matter."
The crowd erupted in rapturous applause and cheers of "Trump! Trump! Trump!"
"All lives matter," he repeated, before trying to return to his stump speech. "Hey, is it fun to be at a Trump rally? Is this great? Where else does this happen?" he added, shortly before another protester attempted to impede the proceedings.
"Get her out! Get her out!" Trump barked, as his fans jeered the heckler being marched away. "Out! Out! Out!"
About 20 or 30 protesters had been removed for shouting "Black lives matter" and other slogans, according to CNN. At the same rally, Trump heckled a protester by demanding to know if he was from Mexico.
During previous encounters with protesters at his rallies, Trump has said aloud he'd like to "punch them in the face," and also encouraged his fans to "knock the crap out of" them, promising to pay their legal fees if they did.
After a Black Lives Matter protester was viciously beaten at a Trump rally in November, Trump later said, "Maybe he should have been roughed up."
At a rally in Madison, Alabama on Sunday, Trump punctuated a similar episode where a Black Lives Matter protester was removed by remarking: "We have to love everybody. All lives matter."
As the final protester was escorted from the rally Monday, Trump mused: "When you think of it, hey, honestly. We're all together. We're gonna unify this country."
[image via screengrab]
Have a tip we should know? tips@mediaite.com