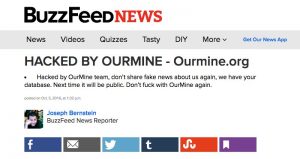 The hacker group "OurMine" gained access to Buzzfeed and changed the headlines of multiple stories apparently in retaliation for a story that outed one of its members.
On Tuesday Joseph Bernstein reported that "one of the OurMine crew is likely a young man living in Saudi Arabia who goes by the name 'Ahmad Makki' on social media." OurMine told Buzzfeed that Makki was merely a fan, not a member, of the group.
On Wednesday morning, the text of Bernstein's report had been revised to say in part: "don't share fake news about us again, we have your database. Next time it will be public. Don't fuck with OurMine again."
Several other headlines on the site had been changed to say "Hacked By OurMine."
Buzzfeed issued a statement via Twitter, acknowledging the hack.
The hacking group OurMine altered several posts on https://t.co/20lNl4QWRf following BuzzFeed News reporting on the group pic.twitter.com/1bYcxZ3QlS

— BuzzFeed News (@BuzzFeedNews) October 5, 2016
By Wednesday afternoon Bernstein's story had been restored.
OurMine is responsible for hacking into several prominent tech leaders' social media accounts. In June they told Mic that they had rebranded themselves as a "security group," hacking people in order to encourage them to upgrade their security and to purchase consulting services from OurMine. In September they hacked the entertainment trade magazine Variety, spamming its subscribers with a message that began, "it's #OurMine, don't worry we are just testing your security…"
—
Sam Reisman (@thericeman) is a staff editor at Mediaite.
Have a tip we should know? tips@mediaite.com