After Smearing Dana Loesch, The Media Cannot Let These Parkland Students Go Unchallenged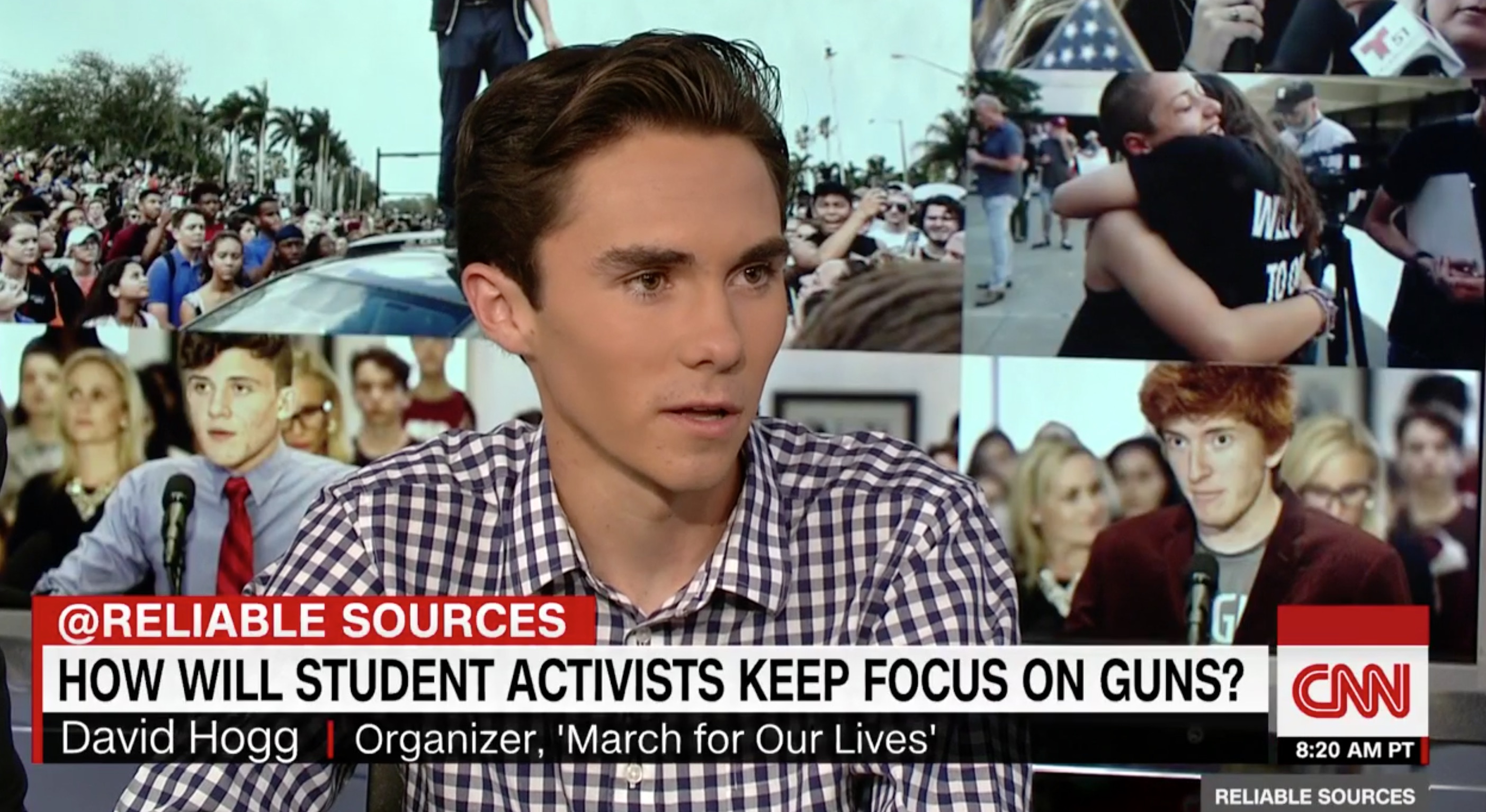 The students of Marjory Stoneman Douglas High School went through a devastating experience, something no one — let alone the 3,000 teenagers on that campus — should have to go through. Despite the horror and loss they have faced, many of them are advocating for meaningful change and it is truly inspiring.
For the past couple of weeks, the media rightfully gave these students the platform they deserve. Between countless interviews, televised rally speeches, and a primetime town hall, they've been seen and heard by millions of Americans. And while they should be respected as teenage survivors of a school shooting, many in the media have been afraid of challenging the things they say, whether factually incorrect or even downright cruel.
David Hogg, one of the most outspoken of these students, has made his position clear in the gun debate and isn't shy about his animus towards the NRA. And again, he has every right to believe what he believes. But as of late, he has turned reasonable criticisms of the NRA and its spokeswoman Dana Loesch into unfair attacks and folks in the media, particularly at CNN, have allowed them to go unopposed.
Hogg and fellow student activist Emma Gonzalez appeared on CNN last week and blasted the NRA and the politicians who accepted their "blood money." If that's what they want to call campaign contributions from an organization supporting Second Amendment rights, that's their prerogative. But then Hogg takes his attacks a bit further.
"And not take money from people that want to keep lessening gun legislation and making it even easier for these horrifying people to get guns," Hogg told Alisyn Camerota, "because if you can't get elected without taking money from child murderers, why are you running?"
Child murderers. He referred to the NRA, a group of five million gun owners, as child murderers and Camerota didn't give him any pushback despite her convincing argument to Loesch last Friday that she did. Camerota owes her viewers a correction and Loesch an apology.
It wasn't until his appearance on Reliable Sources on Sunday that his attacks went from being unfair to beyond the pale.
Parkland student survivor and activist David Hogg criticizes NRA spokesperson Dana Loesch: "She owns these congressmen. She can get them to do things. It's just she doesn't care about these children's lives" https://t.co/cfOvcjtoDqhttps://t.co/rOqG9HzvhF

— Reliable Sources (@ReliableSources) February 25, 2018
Hogg began by calling Loesch a "national propagandist" for the NRA and accused her of "working with the gun manufacturers" instead of "being on the side" of its members without any evidence.
"She's showing that she doesn't care about them. She doesn't care about the police. Why do you think she's criticizing these people? It's because she's going after them and she wants her base to continue attacking them so she can sell more guns."
Brian Stelter then asked if Hogg was worried about losing support for his movement if he continued with his "personal" attacks against Loesch and the NRA. He responded by accusing Loesch of "attacking" Broward County Sheriff Scott Israel — and claiming she doesn't care about "children's lives."
"I had to witness this horrifying incident, but honestly, how could you say you support law enforcement if you're just constantly attacking them over this?" Hogg asked. "How hypocritical and disgusting are you?"
He went on to defend Sheriff Israel and continued lambasting Loesch (emphasis mine):
These are the people that are trying to protect our lives. Did they make a mistake? Absolutely. Is that something we have to fix? Absolutely. But there's a much bigger problem in Washington where they say that — here's what Dana's been saying as the spokesperson for the NRA. She says she wants to continue to pass laws — she wants people in Congress to pass laws to help out with mental health and things like that and she says she can't do that. Are you kidding me? You own these politicians… She wants Congress to take action and says that they won't. Are you kidding me? She owns these congressmen. She can get them to do things. It's just she doesn't care about these children's lives."
When asked by Stelter where this "information" came from, Hogg referred to his "previous research in speech and debate" and "through learning about universal background checks."
Are you kidding me?
Hogg continues to condemn the NRA without expressing any sort of outrage towards Israel and his deputies for their blatant and numbered failures to protect Marjory Stoneman Douglas. He's even willing to blame Florida Governor Rick Scott over Sheriff Israel, his go-to gun control mascot.
As bad as his defense of Israel was, his rhetoric towards Loesch was worse. For starters, he repeatedly insisted that she "owns" politicians all while "working for the gun manufacturers." These unsubstantiated and baseless claims may fly in his speech and debate class but shouldn't fly on a major news network like CNN. And then for him to accuse Loesch of not caring about these children's lives is truly nauseating. Shame on Stelter for allowing that to go unchallenged on his program.
That's the problem. For weeks, there has been an almost unspoken rule for the media that these students could not face criticism simply because they were survivors of this tragedy. Except they aren't just survivors anymore; they're now activists, and at this rate are becoming political pundits.
Just this week, Hogg told Anderson Cooper that the politicians who aren't intensely pushing for gun control like he is "don't care about these children's lives." And Cooper just nodded along without any objection to the remarkably asinine statement.
If these student advocates are to be taken seriously, then we should take what they say seriously and criticize them when they deserve it. And guess what… they deserve criticism.
Hogg's smears against Loesch came just days after everyone rushed to his defense when subhuman online trolls pushed conspiracy theories that he was a "crisis actor" and that he was being "coached" by his father, a former FBI agent. He himself called them "disgusting." And now, he's pushing his own unfounded theories about Loesch in order to advance his gun control agenda.
You may not like the NRA or Dana Loesch, and maybe you yourself are a gun control advocate, but to allow Hogg to refer to the NRA as "child murderers" and to accuse Loesch of not caring about children is wrong and deserves condemnation. It is unethical for the media to accept everything these students say as gospel and their bestowing upon these students complete moral authority is grossly irresponsible.
If these kids want to be heard as adults, then they should be held accountable as adults.
[image via screengrab]
This is an opinion piece. The views expressed in this article are those of just the author.