AJAM's David Shuster Exclusive: Hillary Clinton to be Interviewed by FBI Director Comey in Coming Days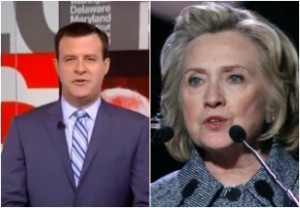 Al Jazeera America may be shutting off the lights permanently soon, but that doesn't mean reporters like David Shuster aren't continuing to go about their business until the final gun sounds.
Wednesday night, Shuster just reported on the 7:00 PM EST AJAM nightly newscast that the FBI has completed its examination of Democratic frontrunner Hillary Clinton's private email server after an investigation lasting nearly one year. The former Fox News and MSNBC reporter states investigators are nearing a verdict whether to seek criminal charges against the Former Secretary of State, Senator and First Lady.
Per Shuster:
While Hillary Clinton fights for the Democratic presidential nomination, law enforcement officials tell Al Jazeera America the Federal Investigation into her personal email system while she was Secretary of State has reached a critical stage.

The FBI, led by Director James Comey, has now finished examining Clinton's private emails and home server. And the sources add that Comey's FBI team has been joined by the Justice Department prosecutors. Together, they are now examining the evidence, analyzing relevant laws, and attempting to arrange interviews with key figures in the investigation.

Those interviews, according to attorneys, will include former State Department aides Philippe Reines, Former Clinton Chief of Staff Cheryl Mills, and Clinton herself.

Soon after those interviews — in the next few days and weeks — officials expect Director Comey to make his recommendation to Attorney General Loretta Lynch about potential criminal charges.
Mrs. Clinton admitted to ABC's David Muir last year that she made a mistake in using a private email system, but continues to insist she did nothing illegal in any capacity.
Shuster finishes his report this way (emphasis mine): "Because there is now every sign the Clinton email investigation is quickly headed towards a conclusion, whether it's her exoneration or indictment. In terms of timing, sources expect the conclusion to come in weeks, not months. And they add that Hillary Clinton's interview with the FBI, which could come in days, could be crucial."
The next chapter in this rollercoaster reality TV campaign of 2016 comes faster than binge-watching a season of House of Cards.
If the report is accurate, Hillary Clinton goes before Director Comey and the FBI in a matter of days. The outcome of that interview could end up changing the entire race for the White House.
AJAM will soon turn out the lights. The Clinton campaign either gets to keep them on or go the same way.
Just another day, another hour, in this impossibly insane quest for the presidency.
— —
Follow Joe Concha on Twitter @JoeConchaTV
This is an opinion piece. The views expressed in this article are those of just the author.