Al Jazeera America Head Hits Cable News Competitors: Viewers Want More Than Endless Trial Coverage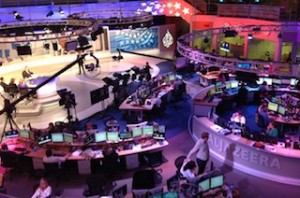 With Al Jazeera America set to launch on Monday, WNYC's "On The Media" program delved into the first new 24-hour cable news network to launch since Fox, with producer Sarah Abdurrahman interviewing some of the major players who have been charged with the difficult task of bringing the international brand to American viewers.
Abdurrahman spoke to Kate O'Brian, the former ABC News SVP, who has taken on the role of president at Al Jazeera America. Responding to potential criticism about the role of the Qatar government, which bankrolls Al Jazeera all over the world, in directing the network's editorial voice, O'Brian said she did not anticipate any conflicts. "I frankly wouldn't be here," O'Brian said, "if I didn't believe that this is an editorially independent media company and channel."
O'Brian said she saw the Qatar backing as an asset in a media environment where resources are shrinking. "We will be able to tell stories from places that our competitors will not be able to," she said. Asked how she plans to compete with Fox News, CNN and MSNBC, which have been relying more and more extended coverage of domestic trials, like those of Jodi Arias and George Zimmerman, O'Brien said she disagrees with the "premise that that is what American audiences want."
The reality, she said, is "that is what Americans have at their disposal to watch." Saying it comes down to a "resource issue," O'Brian said "it's a lot easier for a cable channel put up a trial that has, essentially, pool video, rolling all day long, you don't have to be spending money and resources doing other things." She said Al Jazeera America is "lucky" to have the resources to cover stories all over the world.
Ali Velshi, the former CNN anchor who has moved over to Al Jazeera America, agrees with O'Brian. "People who are disaffected by what they are accustomed to seeing on cable news," Velshi said, "will detect the difference immediately." He said the channel won't focus "on the things that they don't think are news" and won't necessarily book "guests who take the most extreme views." Velshi declared, "You will know that it's not the same as Fox and MSNBC and CNN from day one."
Al Jazeera America launches Monday, August 20th, replacing Al Gore's Current TV everywhere that channel can currently be seen.
Listen to the full report below, via "On The Media":
[photo via Al Jazeera]
—
>> Follow Matt Wilstein (@TheMattWilstein) on Twitter
Have a tip we should know? tips@mediaite.com