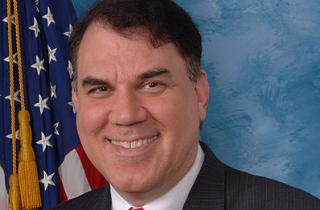 The Orlando Sentinel reports that the wife of U.S. Rep. Alan Grayson was granted a temporary injunction against the Democratic lawmaker in response to an alleged domestic incident that occurred at their home over the weekend.
On Monday, Lolita Grayson filed a petition for the injunction after claiming her husband pushed her against a door during a tense confrontation at their Florida home. Grayson's office vehemently denies the allegations, calling them "frivolous" and designed to "vilify and harm" him.
Lolita Grayson had filed for a divorce less than two months ago, citing an "irretrievably broken" marriage of 24 years.
In the more recent petition, Grayson's wife recounts how her husband "showed up, unannounced" at their home and asked to speak inside. When Lolita refused, she told police, the congressman "then deliberately and with force" pushed her against a door before she fell to the ground. She claims that, while resisting his assault, she pushed the congressman in the face and kneed him in the gut, before calling the police. According to the Sentinel, photographs included with the petition show bruising on the estranged wife's left leg and shoulder.
Alan Grayson was not arrested in the incident and faces no criminal charges yet.
Lolita Grayson also complained that this is not the first time her husband has "battered" her or the children. She sought legal protection against her soon-to-be-ex-husband because of his alleged "history of physical violence."
The lawmaker's office has fought back against Ms. Grayson's story, claiming she initiated the "violent assault." Lolita Grayson has become "increasingly erratic" since filing for divorce, his office said.
Ms. Grayson's injunction against her husband lasts until a court appearance on March 20.
Read more over at Sentinel.
— —
>> Follow Andrew Kirell (@AndrewKirell) on Twitter
Have a tip we should know? tips@mediaite.com