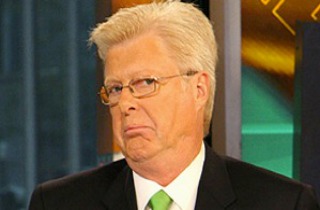 How startling it must be for Fox News radio host John Gibson to Google search his name and find out that he croaked in may of 1986. Somebody needs to alert the tech giant (a "Google Alert" could work) that at 68, Gibson is still very much alive.
A Google search of "John Gibson" does indeed turn up a profile of the conservative commentator. It rightly indicates that he was born in 1946, complete with an accurate photo of him. But, sadly, it says he died more than 20 years ago.
Gibson appears to be aware of the mishap. ESPN2's Keith Olbermann, a liberal, noted the discrepancy on Twitter Tuesday morning. "No love lost here but honestly – he's not dead, he's just on Fox News Radio," Olbermann tweeted in d***-like fashion.
Alerted of the tweet, Gibson simply retweeted it without comment: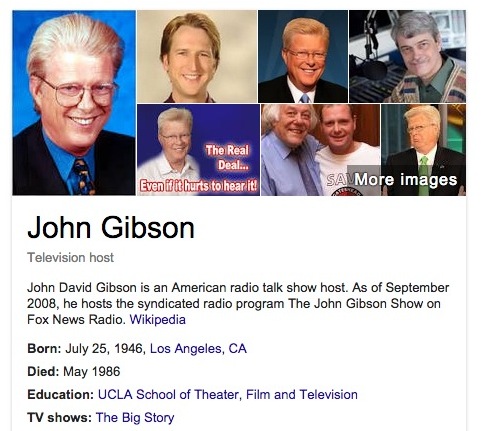 UPDATE — Oct. 29, 3:52 p.m. ET: A Google spokesperson passes along this explanation:
Our Knowledge Graph is our real world map of people, places, and things. There are over 570 million entities in the Knowledge Graph, with more than 50 billion connections and attributes.

Our goal is to be useful; we realize we'll never be perfect, just as a person's or library's knowledge is never complete. We've included a link so all our users can report inaccuracies.

I've reported feedback on this and let the team know as well. You're also able to submit feedback on the entry as well.
[Photo via Fox News Radio]
— —
>> Follow Eddie Scarry (@eScarry) on Twitter
Have a tip we should know? tips@mediaite.com