Alex Jones Explodes Over Mediaite Article: 'Another Example Of Disinformation' About Me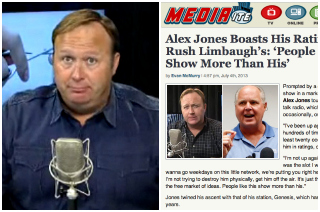 We love you too, Alex Jones.
On his radio show Friday, the false-flagster took exception with an article about him on Mediaite, decrying it as part of a campaign of "disinformation" against himself and Infowars.com.
"They're just another example of disinformation," Jones said. "And I'm seeing this every day against Infowars.com and yours truly, where they will take something I've said, this is mainstream media, alternative media, for reasons of jealousy, reasons of envy, reasons of establishment bootlicking…where they will edit clips of what I've said out of context, to misrepresent what I've said."
The article covered an earlier segment of Jones's, in which he claimed to occasionally "destroy" Rush Limbaugh in head-to-head matchups. Here's the money quote:
"I've been up against Limbaugh, toe to toe, hundreds of times. There are at least twenty occasions that we have come up to him in ratings, or destroyed him…I'm not up against Limbaugh on purpose. This was the slot I was offered in 1998, they said, you wanna go weekdays on this little network, we're putting you right here, that's where we have a slot…I'm not trying to destroy him physically, get him off the air. It's just that I will defeat Rush Limbaugh in the free market of ideas. People like this show more than his."
Jones claims he was specifically referring to cases in which he was picked up by small market radio stations and built an audience until he was competitive with Limbaugh, only to have the stations change format.
"That turns into 'I wanna bring Rush Limbaugh down, and I'm a liar, saying I have a bigger total audience than him,'" Jones said. "Rush Limbaugh probably has five times the terrestrial radio audience I do, probably more. Because he not only has five times the stations, most of them are the bigger ones, the marquee stations. I'm not about this!"
Jones insisted that he and Limbaugh were on the same side, and that he had purchased advertising on Limbaugh's show when the radio host was embattled with boycotts.
Despite this affirmation of camaraderie with Limbaugh, Jones got in a jab before the end of the segment, reminding his listeners that he vastly outperforms Limbaugh on the internet. "We're thousands of percentage points above Limbaugh," Jones said, but then added, confusingly, "But I'm not in competition with Rush Limbaugh. This is a distortion. You're lying to your readers."
Watch the clip here:
Watch the original segment here:
—
>> Follow Evan McMurry (@evanmcmurry) on Twitter
Have a tip we should know? tips@mediaite.com