Alex Jones Fires Back At 'Establishment Authoritarian' Sites That Covered His Conspiracy-Mongering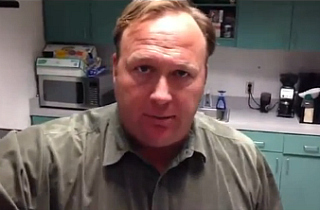 Reporting from the pantry of the InfoWars offices yesterday, conspiracy theorist radio host Alex Jones took to making a web video to slam the "establishment authoritarian" news outlets who covered his Monday afternoon suggestion that the Boston bombings were a "false flag" operation designed by the Federal Bureau of Investigation.
As our own Noah Rothman reported yesterday afternoon, Jones tweeted that the bombings "stink to high heaven" of what he'd call a "false flag" operation by the FBI, whom he claims has been behind "virtually every domestic terror plot."
After "explaining" how you "know" the media coverage of the Boston bombings has been "scripted," Jones held up several print-outs of major news outlets' articles reporting on his conspiracy theory and went one-by-one in lambasting the coverage:
Our very own site, Mediaite, led the pack. He called us an "establishment authoritarian website that poses as liberal," and proceeded to lament that we did not mention that his "FBI behind virtually every domestic plot" claim came from a New York Times article from 2012. The reason we didn't? Because that's not what the Times article actually said.
In addition, Jones believed Salon's coverage of the conspiracy-mongering was tantamount to "telling the police there will be bombings everywhere by right-wingers" and that Boston should "get ready to arrest Christian," because… why not?
He then went on to reiterate his claims that the supposedly scheduled Boston police controlled explosion drills happened on the same day as the attacks, and thus this was a grand conspiracy by the feds.
Watch below, via InfoWars:
Have a tip we should know? tips@mediaite.com