All Broadcast And Cable News Networks Cover Obama's Security Address (Update)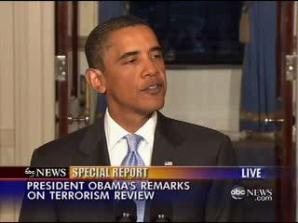 In addition to the cable news networks, all three broadcast networks were live for Pres. Barack Obama's speech today on national security and terror. And to highlight just how big the moment was, Katie Couric, Diane Sawyer and Brian Williams anchored the special reports.
Here's a brief look at the speech and reaction.
One of the lines that will get a lot of attention directly contradicted a quote from Pres. Obama's Homeland Security Secretary, Janet Napolitano, that got a lot of play in the days after the Christmas Day attack. "The system has failed in a potentially disastrous way," said Pres. Obama.
Later, he went further: "This was not a failure to collect intelligence, it was a failure to integrate and understand the intelligence we already had…that's not acceptable and I will not tolerate it."
This new, tough tone was noted on all three cable news networks after the speech, and one thing was almost universally agreed upon – someone needs to be fired to prove just how serious he really is.
Pres. Obama also took on the topic of Guantanamo Bay. "We will not be transferring additional detainees back to Yemen at this time," he said. "But make no mistake, we will close Guantanamo prison, which has damaged national security interests and has become a tremendous recruiting tool for al-Qaeda."
In an interesting PR maneuver by the White House, they released this image of the meeting Pres. Obama had with his security team to their Flickr stream about 10 minutes before he spoke. A bit of an appetizer: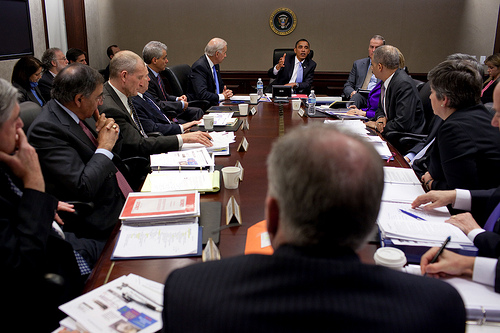 Earlier in the day, Speaker Nancy Pelosi spoke to reporters, and was asked about C-SPAN's wish to air the health care debate, which was an Obama campaign promise. "There are a number of things he was for on the campaign trail," she said – an interesting response. > Update: Video below:
One more note: because of Glenn Beck's pre-planned show, Fox News had just a few minutes of analysis before going to Beck, who is devoting the entire hour to the economy, not terror at all.
Here's a look at Pres. Obama's address, and below, Pelosi's comment about the "campaign":


Here's Pelosi:


—–
» Follow Steve Krakauer on Twitter
Have a tip we should know? tips@mediaite.com