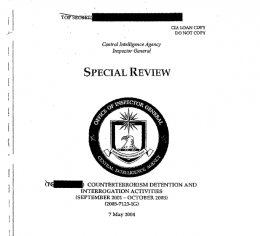 Yesterday the Justice Department released a 2004 memo detailing abuses that took place inside the CIA's overseas prisons "showing how interrogators choked a prisoner repeatedly and threatened to kill another detainee's children." Shortly thereafter the New York Times took the unusual step of posting the entire report in a document reader on its website and invited "readers to help us annotate and make sense of the new details revealed in the report and other supplementary materials we will also post as they are released."
It's an unusual move for the Times insofar as the paper still enjoys a certain voice of God position in the media landscape in its ability to determine the national tone of conversation via its reporting, though even that is diminishing. It's not unusual in the sense that Talking Points Memo has been doing documents dumps for quite a while now, beginning in March 2007 when they combed through the DOJ documents during the whole U.S. Attorney firings debacle.
It's a not only a smart, time-saving, idea — combing through hundreds of pages of documents in a timely fashion is no easy feat, marshaling the intelligence of Times readers would alleviate that significantly — but it's a pretty significant nod on the Times' part to the power of citizen journalism, the Internet hive mind, and the increasing important role social media plays in how we get our news today. Also, something that would have been unheard of just a few years ago. It's interesting that at the same time Wikipedia is taking measures to operate more like a newspaper, the NYT gets one step closer to Wikipedia.
Have a tip we should know? tips@mediaite.com