'Amateur Hour': Pro Golfers Slam USGA For 'Terrible' Mismanagement at Sunday's US Open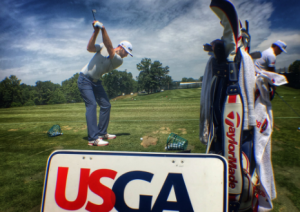 The history books will remember that American Dustin Johnson won the 2016 US Open by a multiple stroke margin after putting up an impressive -4 showing in his final round.
But in the heat of the moment, the controversy that embroiled the US Open yesterday at Oakmont Country Club in Pennsylvania lingered for Johnson over several holes. While attempting a par putt on the fifth hole, Johnson's ball moved slightly. It was immediately ruled a non-penalty, as it was deemed that Johnson — the number six player in the world — did not cause the ball to move:
The latest on Dustin Johnson, who could be assessed a stroke penalty for his 5th-hole mishap https://t.co/DKpWXisd0i https://t.co/GhVUg3Azui

— Sports Illustrated (@SInow) June 19, 2016
However, on the 12th tee en route to clinching a Championship, Johnson was informed by the U.S. Golf Association that he may be penalized — not that he would or would not for sure — at the end of his round for the flub on 5. Johnson went on to three-putt his 14th hole, and people feared the wheels were fast coming off the engine because the USGA got into Johnson's head mid-round.
Many of his compatriots in professional golf — most notably Rory McIlroy and Jordan Spieth — slammed the USGA's mishandling of the situation in defense of Johnson.
This is ridiculous… No penalty whatsoever for DJ. Let the guy play without this crap in his head. Amateur hour from @USGA

— Rory McIlroy (@McIlroyRory) June 19, 2016
This isn't right for anyone on that golf course. If it was me I wouldn't hit another shot until this farce was rectified.

— Rory McIlroy (@McIlroyRory) June 19, 2016
Lemme get this straight.. DJ doesn't address it. It's ruled that he didn't cause it to move. Now you tell him he may have? Now? This a joke?

— Jordan Spieth (@JordanSpieth) June 19, 2016
DJ took the high road to take that penalty. This ordeal cannot be overlooked because of a multiple shot victory

— Jordan Spieth (@JordanSpieth) June 20, 2016
@USGA treatment of @DJohnsonPGA absolutely shocking. No way he made the ball move.

— Ernie Els (@TheBig_Easy) June 19, 2016
The @USGA are creating an incredibly anti-climatic scenario here during what should be an incredibly dramatic back nine on Sunday. Sort it.

— Graeme McDowell (@Graeme_McDowell) June 19, 2016
The guy is trying to win a US Open. And you mess with his head like this. Standard stuff from the @USGA. #terrible

— John Peterson (@JohnPetersonLSU) June 19, 2016
Johnson ended up closing out his final round on Sunday in strong fashion, shaking off the controversy during his final holes in the process. He would finish -4, ahead of Americans Jim Furyk (-1), Scott Piercy (-1) and Ireland's Shane Lowry (-1), winning his first major championship in the process.
—
J.D. Durkin (@jiveDurkey) is an editorial producer and columnist at Mediaite.
[image via Twitter]
Have a tip we should know? tips@mediaite.com