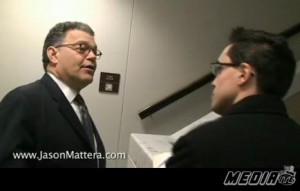 Conservative activist Jason Mattera has been making a lot of noise lately, and it looks like it's paying off. Hot on the heels of his ambush interview of Senator Al Franken (D-MN), conservative mainstay Human Events announced that it has named Mattera its Editor in Chief. He will also have "significant involvement" with Human Events' sister site, Redstate.
The brash, young (26 years old) Mattera certainly knows how to get attention, but is he a good fit for the 66 year-old "Conservative Bible," favorite newspaper of Ronald Reagan? Is Redstate, hub of serious conservative activism, ready to be helmed in Mattera's direction?
Aside from a nasty anti-gay streak and a penchant for casual misogyny, Mattera is an entertaining presence for the right crowd. As Bill O'Reilly and I (disturbingly) agree, he's also got a thing or two to learn about how to conduct an interview. However, he does have a knack for extracting large doses of read meat, and for being in the right place at the right time. There certainly is an audience for Mattera's brand of cutting humor, and he would fit in with some of Human Events' current contributors, but Editor in Chief, in charge of serious journalists like my colleague John Gizzi? I just don't see it.
Similarly, whatever you think of Redstate.com, they are not clowns, at least not intentionally. Redstate chief Erick Erickson recently joined CNN in a bid for mainstream credibility. Is he really ready to take input from a conservative cross between Borat and Stuttering John?
Mattera actually seems much better suited to the Andrew Breitbart family of websites, where his raw energy, ability to put on a show, and contempt for traditional journalism would far outweigh his weaknesses. In Human Events' press release, Breitbart offered effusive Mattera love:
"It is utterly refreshing to see a young journalist with Jason's intellect and feel for the zeitgeist have an opportunity to inject new energy into one of the old stalwart publications of the conservative movement. Anything Jason does is done well. I can't wait to read the new HUMAN EVENTS."
While Andrew might want to read a Mattera-helmed Human Events, who else will when Breitbart already does the same thing so well? The best case scenario is that Human Events winds up looking like the old guy at the nightclub with the combover and the Members Only jacket. Worst case? Human Events and Redstate alienate large portions of their audience.
Have a tip we should know? tips@mediaite.com