Amidst Falling NFL Ratings, New Poll Says 32 Percent of People Less Likely to Watch Due to Anthem Protests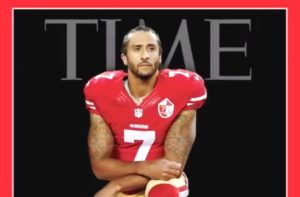 As NFL ratings continue their sharp year-over-year declines, a new poll suggests that fan backlash over National Anthem protests could be part of the reason for the smaller audiences.
Rasmussen Reports conducted a survey in which they asked: "Are you more likely or less likely to watch a National Football League game because of the growing number of Black Lives Matter protests by players on the field? Or do those protests have no impact on your viewing decisions?"
Thirty-two percent of respondents said that they were less likely to watch. Thirteen percent said they were more likely to watch. Fifty-two percent claimed the protests would have no impact.
According to Sports Media Watch, six of the broadcast windows in Week 4 of the NFL season posted a viewership decline from Week 4 numbers last year. And out of 26 NFL telecasts so far this year, 20 have gone down in viewership.
Sunday Night Football and Monday Night Football have been particularly hard hit. Sunday Night Football this week posted its lowest overnight rating since 2007, according to Sports Media Watch. And Sports Illustrated reports that Monday Night Football ratings are down 19% overall this season.
As The Sporting News points out, there are other factors at play: Peyton Manning has retired. Tom Brady has been suspended. (He returns this week.) The absence of the NFL's two biggest stars over the past 15 years cannot be overlooked.
There is also the larger trend of cord cutting, which may finally be catching up with the NFL. And there's been a bit of bad luck too, with many primetime games not being competitive.
But if the Rasmussen numbers are correct, then at least a sliver of the NFL audience may be protesting the protests by tuning out.
[image via TIME Magazine]
–
Follow Joe DePaolo (@joe_depaolo) on Twitter
Have a tip we should know? [email protected]
Joe DePaolo - Senior Editor