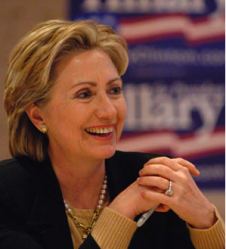 Following the national hoopla over Chelsea Clinton's wedding two weeks ago, the chatter about Hillary Clinton's political future continues. The latest speculation is that President Barack Obama could name Hillary to replace Vice President Joe Biden when he runs for reelection.
This is not a new theory. Last month WSJ's Pete DuPont speculated that Hillary could feasibly make a run for President and that Obama's best option to keep from having to face down the Clinton machine again would be to appoint Hillary VP. Whether or not she's interested is another question. Clinton, herself, has said on a number of occasions that she has no more political ambitions, which taking the Clinton's political history into consideration is nearly impossible to believe. Over the weekend, Newsweek's Howard Fineman told new-found Hillary fan Chris Matthews that of course Hillary is interested.
"Listen, I've covered Hillary for a long, long time…It's Hillary. It's who she is. She's watched Barack Obama. I think in her mind she's saying he's done some good things but there are things I would have done much, much better. … And if it's possible to work out the deal to get on the ticket, absolutely she would take it in a second."
New York's John Heilemann chimed in:
"Right now, with a white approval rating in the mid-thirties, having won forty-three percent of the white vote…Having her on the ticket would be a huge advantage with those voters and would inject a huge amount of energy into the ticket that you would never get with Biden."
You know where else it would inject a large amount of energy? Heilemann's yet-to-be-written follow-up to Game Change he and Mark Halperin have already been signed to pen about the 2012 election.
The point I think is this. Whether there is any real world chance Hillary will make another run for office, or that Obama would throw Biden under the Clinton bus, remains to be seen, and is probably tenuous at best. What is not tenuous is the country's ongoing obsession with the Clintons, and to that end I think we can safely expect that the speculation about Hillary's future will only escalate between now and 2012 until it reaches a point where she will have to deal with it publicly. Needless to say, the idea the somehow Hillary and Sarah Palin may come face to face in a political debate is pretty irresistible. Watch the segment below.
Have a tip we should know? tips@mediaite.com