Andrew Sullivan Alleges: The Pope May Be In A Gay Relationship With One Of His Secretaries
Sullivan Alleges: The Pope May Be In A Gay Relationship With One Of His Secretaries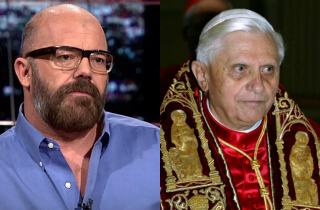 Daily Dish blogger Andrew Sullivan has uncovered a secret in the Vatican. At least, according to the writer, there is the strong implication that Pope Benedict XVI has been engaged in some untoward behavior. The Bishop of Rome's recent abdication, in Sullivan's estimation, may have revealed something the Vatican desperately wanted to keep a secret – the Pope's unconventional relationship with one of his male secretaries.

RELATED: Andrew Sullivan And S.E. Cupp Clash Over Gay Marriage, Mormonism On Real Time
"Benedict XVI has claimed that his almost unprecedented resignation came about simply because of his physical infirmity in the face of what appears to be a growing vortex of sexual and financial scandal inside the Vatican," Sullivan wrote.
However, Sullivan notes, Benedict will remain inside the Vatican and will continue to retain much of his Papal benefits – including the counsel of one of his most trusted secretaries, Monsignor Georg Gänswein.
"[T]his is what really made me sit up straight," Sullivan writes. He quotes a report which indicates that Gänswein will serve both the new Pope and Benedict after his abdication. Gänswein will be "living with Benedict at the monastery inside the Vatican and keeping his day job as prefect of the new pope's household."
"So Benedict's handsome male companion will continue to live with him, while working for the other Pope during the day," Sullivan noted. "Are we supposed to think that's, well, a normal arrangement?"
This man – clearly in some kind of love with Ratzinger (and vice-versa) will now be working for the new Pope as secretary in the day and spending the nights with the Pope Emeritus. This is not the Vatican. It's Melrose Place.
> >Follow Noah Rothman (@NoahCRothman) on Twitter
Have a tip we should know? tips@mediaite.com