'Angry Trayvon' Mobile App Sparks Outrage; Developer Promises To Shut Down Game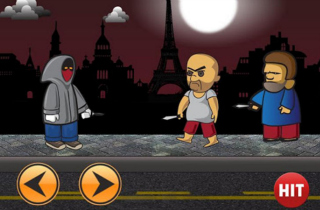 The developers of a mobile app called "Angry Trayvon" have promised to shut the game down after it generated a considerable amount of controversy.
In the game, main character Trayvon wears a hooded sweatshirt and roams levels like Brooklyn, New York, in the aim of completing "his world tour of revenge on the bad guys who terrorize cities everyday." The protagonist is able to battle his enemies with "flying daggers," and "collect the money that the bad guys will drop once you kill them to increase your score."
Outrage grew over the game's use of a hooded character named Trayvon, who also happens to be "angry." The 2012 death of 17-year-old Trayvon Martin has been a major news story for well over a year; and the ongoing trial of his alleged murderer George Zimmerman has dominated the news cycle since late June.
With the game widely available as a mobile app for $1.99, many critics saw the game as unjustly "exploiting" the death of the young teenager:
This application unnecessarily promotes violence and exploits the unfortunate death of Trayvon Martin. I am sure his parents [do] not appreciate the image of their son as a gun toting vigilante. The death of this young man is NOT A GAME. This developer is using the Google Marketplace to exploit the death of an unarmed teen for profit while simultaneously promoting violence. Given the racial and social climate surrounding this issue and the unfair depiction of a deceased minor who perished as a result of gun violence, we are asking that this application be moved from the Google Play marketplace immediately.
In a now-deleted Facebook comment, developer Trade Digital responded [screengrab via NewsOne]: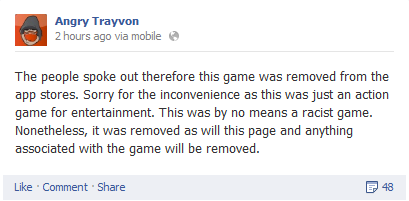 The game has since been removed from the Apple store as well as Google Play. The developer's Facebook page has also been deleted.
The game's trailer has also been deleted. But it's been captured for viewing below, via YouTube:
— —
>> Follow Andrew Kirell (@AndrewKirell) on Twitter
Have a tip we should know? tips@mediaite.com