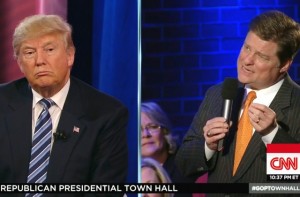 After a participant at CNN's town hall discussion with Donald Trump asked the candidate a difficult question, Trump fans reacted by angrily accusing the man of being a plant.
As Mediaite's Josh Feldman reported yesterday:
Oran Smith, the president of the Palmetto Family Council, said it "stung me very deeply" when Trump said Bush lied to get us into Iraq.

Anderson Cooper also jumped in to confront Trump on whether he still really thinks Bush lied. Trump really dodged that one, saying there's "a lot of people that think that" and insisting that going into Iraq "may have been the worst decision anybody has made, any president has made in the history of this country."
Trump's poor performance on that question angered supporters, and conspiracy theories began to fly. Below are some of the typical tweets, although oddly enough, no one could seem to agree who Smith was a plant for.
.@CNN CNN Used a PLANT in Trump Town Hall Q&A (Oran Smith) An ESTABLISHMENT GOP Insider –> https://t.co/4bVnqbcRwi pic.twitter.com/kKGSinP5A4

— The Majority Awakens (@DefendingtheUSA) February 19, 2016
CNN: let's plant ask Trump a Q
CBS: posts curious graphic helpful to Rubio
NBC: bogus outlier poll
FNC: anti-Trump central

Amazing.

— A.J. Delgado (@AJDelgado13) February 19, 2016
@mitchellvii @DanScavino Jeb(!) plant caught at the #GOPTownHall #Busted pic.twitter.com/fcf3vZVoP0

— Hans Gruber (@godblessameriga) February 19, 2016
@JoeNBC CNN caught using plant last night to question Trump!https://t.co/JjEJlz1Ncz pic.twitter.com/cEb6sCegTv

— Rambo Braveheart (@tdltdltdltdl) February 19, 2016
@realDonaldTrump The guy in the audience that asked if Trump called GW liar -a Bush plant-wow! Did CNN know? @AC360 https://t.co/q8TmclFhfE

— Dr. JK (@CASuperrunner) February 19, 2016
#CNN https://t.co/fdVQBRSNnR Looks like a #TedCruz plant to me. W/e. Trump is 2 days from being unstoppable. https://t.co/7cAZHLccNL

— DreadCrash (@DreadCrash) February 19, 2016
CNN Uses a "Plant" to ask Trump a Question!#Trump2016#TrumpTrain#CruzLies#GOPTownHall#cnn#Trumpnado#Trump pic.twitter.com/t9dt2R9Fp2

— The Loud Majority (@TheLoudMajority) February 19, 2016
So did Oran Smith really meet with Trump's rivals a week earlier? Yes. Was he an establishment GOP plant placed by Rubio, CNN, and the CIA to embarrass Trump? No, not really.
First of all, it's hard to call Smith a "plant" since CNN was upfront about the fact that he wasn't an everyday South Carolinian, telling viewers he was president of the Palmetto Family Council. If he was a "plant," he hid his identity pretty poorly.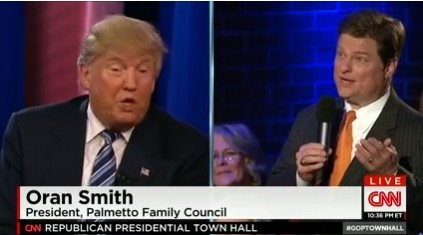 Second of all, it is true that Smith was on stage with Trump's rivals a week earlier, but that's because his organization held an open forum for all Republican candidates to discuss matters of faith and politics. Marco Rubio and Jeb Bush showed up, but so did Ben Carson and Ted Cruz. Not exactly the establishment pow-wow Trump fans were calling it.
More to the point, Trump was invited but elected to sent a surrogate instead.
Trump didn't show up to the #FaithFamilyForum but sent a surrogate—who organizers relegated to a break between candidates' speeches.

— McKay Coppins (@mckaycoppins) February 12, 2016
And while he did hold a forum with other Republican candidates, Trump supporters are intentionally leaving off the fact that Smith opened his question by revealing that he had met with Trump as well.
QUESTION: First of all, hello, good to see you again.

TRUMP: Hello, Oran. Nice to see you.

QUESTION: I think it's about five years ago I sat in your office and you said you were thinking about running for president then, and you didn't run then. But man, are you running…

TRUMP: I should have done it. We would have had Obama for four years instead of for eight years. Right?
So apparently he's a GOP establishment plant who met with Trump five years ago while he was contemplating running for president? Yeah, probably not.
[Image via screengrab]
——
>>Follow Alex Griswold (@HashtagGriswold) on Twitter
Have a tip we should know? tips@mediaite.com