Ann Coulter: The Liberal Media Will Stop At Nothing To Screw Up The Republican Primary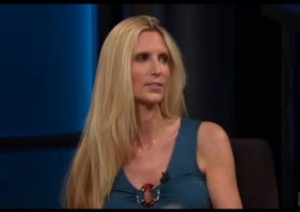 Laura Ingraham had Ann Coulter on her radio show Wednesday to discuss the GOP field.
"I think the liberal media will stop at nothing to screw up the Republican primary," Coulter weighed in, adding that Newt Gingrich would not make an "ideal" candidate for the GOP. Why? Because, well. He's kind of a dork:
I mean, he said last night on Hannity that his cutting an ad with Nancy Pelosi on the urgency of global warming was a terrible mistake and he shouldn't have done it. But he did it! And it just… I mean, it has all of the earmarks of the chubby boy who desperately wants to be liked.
What's more, she added, there's the issue of Gingrich's messy divorce. Ingraham put this in perspective, wondering aloud which candidate's history with women would fare better under the media glare… Cain's?
RELATED: Piers Morgan To Newt Gingrich: Is Your 'Bitterness' Toward The Media A Result Of Your Scandals?
Coulter said her money's been on Mitt Romney since 2008 — barring, of course, the participation of her "true love," New Jersey's Chris Christie.
Later, Ingraham characterized Gingrich as the only candidate (other than Cain in his "best moments") who "consistently gets crowds excited and brings people to their feet." Coulter, meanwhile, finds Gingrich to be incredibly, sleep-inducingly boring, adding that she'd take Cain or Bachmann over Gingrich.
The ladies were able to agree, however, that Romney seems to be the post poised and focused during debates.
Have a listen, courtesy of The Laura Ingraham Show:
Have a tip we should know? tips@mediaite.com