Ann Romney's Olympic Dressage Horse Rider Claims The Sport Is Not As Elitist, Expensive As Some Claim
Ann Romney's Olympic Dressage Horse Rider Claims The Sport Is Not Elitist...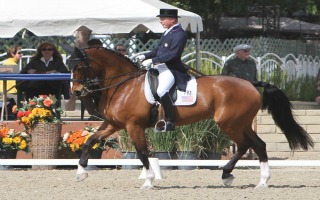 Republican presidential candidate Mitt Romney's wife, Ann Romney, has said that her dressage horse, Rafalca, has helped her deal with the symptoms associated with her multiple sclerosis. The horse is, however, good enough at the sport of dressage that it has qualified to compete in the Olympics. The Romneys have received criticism for taking part in what is commonly understood to be a sport reserved for wealthy individuals, but Rafalca's rider says that the sport is not especially financially taxing and is something anyone can do within "a normal budget."

RELATED: DNC 'Regrets' Offending Ann Romney With Ad Featuring Dressage Horse
Jan Ebeling, Rafalca's rider, told Bloomberg news that it is a misconception that dressage is a sport reserved for elites.
If you look at our team, there's nobody who's a millionaire. When I grew up we had no money. I worked my butt off. I cleaned stalls. People saw the talent and would let me ride their horses. Money is not something that defines dressage. It's something you can do with a normal budget.
Ebeling, 53, went on to say that anyone could take riding lessons and that purchasing a horse was not prohibitively expensive.
"Riding lessons don't have to cost much money and if you buy a young horse you don't have to pay the seven digits that I have heard about," said Ebeling. "You can buy a foal for very cheap."
Boarding and maintaining that foal can be quite pricy – not to mention training.
h/t Gawker
> >Follow Noah Rothman (@Noah_C_Rothman) on Twitter
Have a tip we should know? tips@mediaite.com