Anonymous Claims Credit for Doxing Personal Trump Info That's Been Online For a While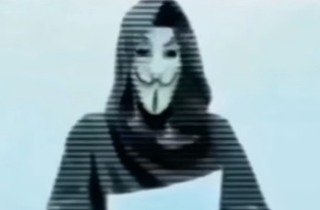 Anonymous has set its sights on Donald Trump, and one of their affiliates posted a video to YouTube Thursday in which it claimed to have unearthed personal information on the mogul. If the hacktivist collective is serious about its plans, though, they'll have to up their game, since most of the information they distributed is actually not new at all.
In previous threat videos, the group promised to wage cyber warfare against Trump's organizations in retaliation for proposals that the group deemed "disturbing," "xenophobic," and "fascist" in nature. The new video was circulated by Anonymous Twitter accounts, and it contains links to a Pastebin page containing Trump's cell phone number, social security number, and the names and addresses of his various employees.
While it is unknown whether the SSN actually belongs to Trump, numerous reports confirm that many of the names and addresses have been publicly available through Google's search engine for a while.
As for Trump's cell phone, that number was actually distributed by Gawker last year in a biting response to when the mogul gave out Lindsey Graham's personal number. Trump ended up turning the phone's answering machine into a call-in campaign message, but recent calls say that the number is no longer available.
Trump spokeswoman Hope Hicks released a statement on the matter, saying "the government and law enforcement authorities are seeking the arrest of the people responsible for attempting to illegally hack Mr. Trump's accounts and telephone information."
[h/t Tech Insider]
[image via screengrab]
Have a tip we should know? tips@mediaite.com