Another Birth of a Nation Actress Speaks on Director's Rape Allegations: 'I Believe in the Film'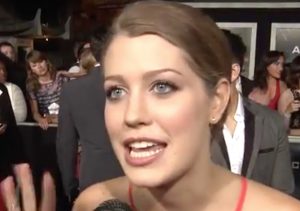 Birth of a Nation received widespread acclaim when it premiered at the Sundance Film Festival earlier this year and it seems to everyone that it was destined to be a high-earning, award-collecting classic.
Unfortunately, since it was revealed that director Nate Parker was accused of rape in 1999 and that the accuser killed herself in 2012, there will always be a dark shadow over the historical film about slavery, which itself features a character who is a survivor of sexual assault. The actors in the movie will always be asked about the allegations against Parker. Gabrielle Union, who plays the character who was raped, wrote an op-ed on the topic earlier this month, explaining that as a rape survivor herself, her views on her involvement in the movie are complex.
Now, Katie Garfield is speaking out, too. She is not as famous as Union, which means that this film had the potential to be more of a launching point for her. In a profile in Broadly, she is shown to be someone who works in multiple industries and has a promising future. It makes sense, then, that she would want to go on the record about the issue that will undoubtedly tarnish the movie for many.
Here's what she said:
I wasn't worried about [the rape scandal] because I believe in the film. I really do, and I believe in the people behind the film. I think the message of Birth of a Nation is so clear and so necessary right now, and I have faith in the audiences that they will hear that message loud and clear and hopefully be open to what the movie stands for and what the intentions behind the film were, which is to tell a really important story that is still so necessary.
It isn't exactly a full-throated condemnation of the man who wrote and directed the movie that could be her biggest break in Hollywood thus far, but it is a well-crafted piece of PR.
She went on to say that "forgiving and forgetting are different things."
Again, not totally incorrect.
[image via screengrab]
Have a tip we should know? tips@mediaite.com