Another Contradiction From Obama's Campaign: President Took Credit For Shrinking Gov't Payrolls In May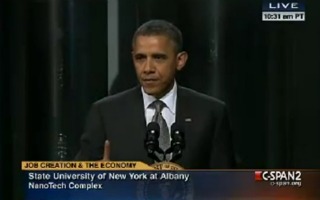 The campaign of President Barack Obama is in full damage control mode today. The President's remarks on Friday, that the "private sector is doing fine" not only casts the White House as deaf to the concerns of average Americans, it is also contradicted by the President's own words from little over one month ago. On Friday, Obama made the case that a shrinking government hurts the economy, but in May he took credit for presiding over a shrinking federal government. Today, Obama's opponents are asking, "which is it?"

RELATED: An Obama Gaffe That Actually Matters: 'The Private Sector Is Doing Fine' (With Obama Response)
President Obama took significant heat on Friday when in a press conference he said that it was the public sector that was suffering most in this persistent recession and the private sector was "doing fine."
The Obama administration made an effort to "walk back" the comment which raised a number of red flags among the President's supporters and his Republican opponents. He said that "the economy is not doing fine," which was why he held that press conference in the first place.
Obama did not, however, walk back his comments about a shrinking public sector being responsible for a lack of job growth. That thesis is the central principle behind the government stimulus program that is his "American Jobs Act," which would send federal funds to the states to rehire and retain public employees.
On May 8, speaking before an audience at the State University of New York at Albany, President Obama took credit for leading the only government in American history to shrink government payrolls during a recession.
"The only time government employment has gone down during a recession was under me," said Obama. "So, I make that point just so you don't buy into this whole bloated government argument that you hear."
Of course, an increase in government outlays and the subsequent reduction of America's credit rating by Standard & Poor's in 2011 was not a figment of America's collective imagination.
According to American Enterprise economist James Pethokoukis, the Obama administration presided over the only time in history when America spent more than 23.5 percent of its GDP. What's more, the Obama administration spent more than 23.5 percent of GDP in every year of his administration.
But incongruity does not seem to faze the Obama campaign or derail their "kitchen sink" reelection strategy.
In April, he Obama reelection campaign simultaneously embraced a seemingly contradictory strategy of painting Republican presidential nominee Mitt Romney as both a conservative extremist who leans furthest to the right as any GOP presidential nominee has since Barry Goldwater and also a coreless flip-flopper whose singular ambition is to be president.
An ever increasing number of observers are uncomfortable with the amount of glaring reversals that the Obama administration has embraced. Sooner or later, media organizations begin to risk their credibility by not calling the President's team out on these inconsistencies.
The Democratic party will outlive the Obama administration – be it a four or eight year proposition. The more the Obama reelection team forces their allies to defend these glaring contradictions, the more they risk alienating their supporters.
Watch Obama speak at Albany on May 8:
Follow Noah Rothman on Twitter
Have a tip we should know? tips@mediaite.com