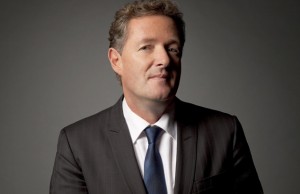 This is why we can't have nice things. A little over a year ago, the White House announced an innovative way for Americans to engage with their government by creating online petitions that the White House would have to respond to if enough signatures (25,000) were gathered. One consequence of the "We the People" program, however, is that a relatively small number of Americans now have the ability to shame the entire nation before the world, as is the case with the gun-loving morons who have made famous their desire to deport CNN's Piers Morgan for "attacking the Second Amendment."
Since the tragic shootings at Sandy Hook Elementary School in Newtown, Connecticut, Piers Morgan has had several contentious exchanges with pro-gun advocates, which prompted freedom-loving gun nuts to petition the White House to deport Morgan back to his native United Kingdom of Great Britain, where firearm ownership is tightly restricted. An early version of the Morgan petition was, apparently, not specific or tone-deaf enough, asking simply, if redundantly:
WE PETITION THE OBAMA ADMINISTRATION TO:
We Petition the Obama Administration To send Piers Morgan back to Great Britain.
We Petition the Obama Administration To send Piers Morgan back to Great Britain.
That effort has only garnered 10,098 signatures to date, but a later version, with more aggressive language, sits at nearly 82,000 signatures, well above the 25k required to get a response: (emphasis mine)
WE PETITION THE OBAMA ADMINISTRATION TO:
Deport British Citizen Piers Morgan for Attacking 2nd Amendment
British Citizen and CNN television host Piers Morgan is engaged in a hostile attack against the U.S. Constitution by targeting the Second Amendment. We demand that Mr. Morgan be deported immediately for his effort to undermine the Bill of Rights and for exploiting his position as a national network television host to stage attacks against the rights of American citizens.
While obvious, it should be noted that Piers Morgan is "attacking" and "targeting" with speech, an activity that, if memory serves, is addressed somewhere in that Amendment-thingy. It might even be somewhere near that 2nd Amendment, I'll have to check.
That First Amendment also protects the right of these 82,000 people to be idiots in public, but that doesn't mean the rest of us have to be happy about it. What these petitioners have done is tell the world that when Americans don't like your ideas, they try to get the government to silence you. It's true that these people represent a mere fraction of a fraction of our population, but the petition amplifies their voices well beyond what they could ever have hoped for.
There are a lot of stupid petitions on the White House website, and clearly, the wiseass factor is vastly outweighed by the good that the We the People program represents, but the Morgan petitions represent a unique combination of anti-Americanism in patriot's clothing, and the appearance of grassroots support. If you don't like Piers Morgan, change the channel, or get booked on his show and yell at him, but to actually petition the government to remove him for exercising our most cherished freedom is not just wrong, it's embarrassing. The world needs to know that America is not just a place that welcomes debate, and even provocation, it's what we were founded on.
Have a tip we should know? tips@mediaite.com