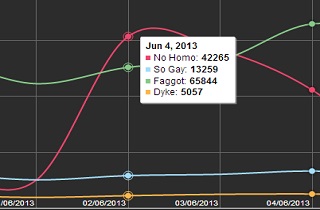 Support for marriage equality is at an all-time high, the Supreme Court will soon make historic rulings on the Defense of Marriage Act and California's Proposition 8 gay marriage ban, and U.S. Senators are coming out for gay marriage at a breakneck pace, along with an NBA player. Twelve states have now legalized same-sex marriage. Unfortunately, even with all of this progress, the internet is still having a gay old time, by which I mean treating gays the way they always have: by tweeting the word "faggot" 60,000-plus times yesterday.
That stat was flagged by The New Civil Rights Movement, in a headline that will, ironically, juice today's count:
It's been almost a year since we first announced the creation of the website NoHomoPhobes, which track the frequency of words like "faggot," "no homo," "dyke, and "so gay" on Twitter. In the eleven months the site has been operating, "faggot," for example, has been tweeted over 13 million times.

Sadly, NoHomoPhobes, when they first came online, estimated the word "faggot" was used on Twitter more than 10.5 million times. In eleven months, that number is over 13 million — way more than estimated.

"According to numbers gathered by NoHomoPhobes.com, use of the inflammatory word faggot has risen dramatically over the past year, up from approximately 22,000 daily mentions to around 58,000, an increase of about 164 percent,"Vocativ reports, noting that may be "small beans," but "not without consequence."
The website NoHomophobes.com features an ingenious tool that tracks tweets of the f-word, plus three other anti-gay phrases, and also scrolls each of the tweets at the bottom of the chart. After a few seconds, it becomes tellingly apparent that the f-word is frequently accompanied by the misspelled contraction "your," as in "your a faggot."
Unfortunately, the site doesn't track other racial slurs, but a Twitter search for the n-word produced a rate that would equal about 6,000 uses in a 24-hour period, to give you some idea for comparison. NCRM notes that the dramatic increase in the use of the word correlates to a doubling of anti-LGBT violence in New York City this year.
Separately, Humboldt State University geography professor Monica Stephens has completed a study of 150,000 tweets, and compiled them into a sort of Twitter hate heat map, showing where concentrations of certain types of slurs come from. Here's some of what she found:
Even when normalized, many of the slurs included in our analysis display little meaningful spatial distribution. For example, tweets referencing 'nigger' are not concentrated in any single place or region in the United States; instead, quite depressingly, there are a number of pockets of concentration that demonstrate heavy usage of the word. In addition to looking at the density of hateful words, we also examined how many unique users were tweeting these words. For example in the Quad Cities (East Iowa) 31 unique Twitter users tweeted the word "nigger" in a hateful way 41 times. There are two likely reasons for higher proportion of such slurs in rural areas: demographic differences and differing social practices with regard to the use of Twitter. We will be testing the clusters of hate speech against the demographic composition of an area in a later phase of this project.

Perhaps the most interesting concentration comes for references to 'wetback', a slur meant to degrade Latino immigrants to the US by tying them to 'illegal' immigration. Ultimately, this term is used most in different areas of Texas, showing the state's centrality to debates about immigration in the US. But the areas with significant concentrations aren't necessarily that close to the border, and neither do other border states who feature prominently in debates about immigration contain significant concentrations.
On the other hand, the percentage of people using Twitter is still rather low, when compared to the rest of the population, so it may be difficult to draw finer conclusions about the general population. If nothing else, these projects raise awareness about hate speech, and let these people know we can see them.
Have a tip we should know? tips@mediaite.com