Antonin Scalia 'Suspects' He May Have Gay Friends, Canceled His 'Shrilly Liberal' WaPo Subscription
Scalia 'Suspects' He May Have Gay Friends, Canceled His 'Shrilly Liberal'
WaPo
Subscription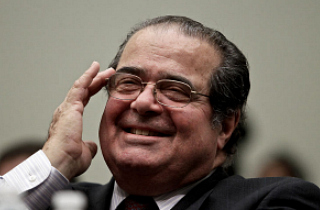 Supreme Court Justice Antonin Scalia's interview with New York magazine is getting lots of buzz for three big reasons: The longest-serving current justice said he "suspects" he has gay friends, canceled his Washington Post subscription due to its "shrilly liberal" bias, and believes the Devil has been working hard lately.
In a lengthy conversation with Jennifer Senior, Scalia spoke with his usual candor, explaining his thoughts on the media: "We just get The Wall Street Journal and the Washington Times," he said of his newspaper consumption. "We used to get the Washington Post, but it just … went too far for me. I couldn't handle it anymore."
What led to his subscription cancelation? "It was the treatment of almost any conservative issue. It was slanted and often nasty. And, you know, why should I get upset every morning? I don't think I'm the only one. I think they lost subscriptions partly because they became so shrilly, shrilly liberal."
On not attending the State of the Union for the last decade or so, Scalia said:
It is a childish spectacle. And we are trucked in just to give some dignity to the occasion. I mean, there are all these punch lines, and one side jumps up — ­Hooray! And they all cheer, and then another punch line, and the others stand up, Hooray! It is juvenile! And we have to sit there like bumps on a log. We can clap if somebody says, "The United States is the greatest country in the world." Yay! But anything else, we have to look to the chief justice. Gee, is the chief gonna clap? It didn't used to be that bad.
When asked whether he's had any personal exposure to the "sea change" in cultural attitudes towards homosexuality, Scalia noted that "I have friends that I know, or very much suspect, are homosexual. Everybody does." None have yet to come out to him, he said, and he doesn't think he's "softened" on the issue much.
"I don't hate the people who engage in [homosexuality]," he added. "In my legal opinions, all I've said is that I don't think the Constitution requires the people to adopt one view or the other."
When the conversation dug deeper into his Catholicism, the justice noted that he "even believe[s] in the Devil." As for evidence of the Devil's existence, Scalia said, "[I]t is curious. In the Gospels, the Devil is doing all sorts of things. He's making pigs run off cliffs, he's possessing people and whatnot. And that doesn't happen very much anymore."
The Devil, Scalia added, has gotten "wilier" and now works "in getting people not to believe in him or in God. He's much more successful that way."
Read the full conversation here.
— —
>> Follow Andrew Kirell (@AndrewKirell) on Twitter
Have a tip we should know? tips@mediaite.com