Ron Paul Fans Allege Rick Perry 'Assault' During Debate Break Based On Photo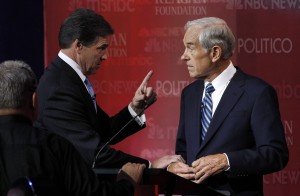 There's no freakout like a Ron Paul fan freakout. A meme has emerged on the PaulWeb that, during a commercial break in last night's Republican Presidential Debate, Gov. Rick Perry "assaulted" fellow Texan Ron Paul, "suddenly grab(bing)" Paul's forearm while "aggressively pointing his index finger towards the Congressman's face."
The only "source" for these allegations is an AP photo with a much blander caption, but that's just what you'd expect from the anti-Paul media, right?

According to Paul fansite RonPaul.com, here's how it went down:
During a commercial break at Wednesday's Republican debate, Rick Perry and Ron Paul continued their spirited exchange on stage. Suddenly, Perry grabbed Ron Paul's forearm while aggressively pointing his index finger towards the Congressman's face. Alerted by Perry's menacing gestures, Ron Paul's bodyguard (front left) was standing by, ready to protect the Congressman.
Admittedly, the photo does look like it captures a somewhat heated exchange, and the two did go at it pretty hard last night, but for all we know, they were discussing the relative merits of My Little Pony and Thundercats. The AP caption cuts against the idea that it was anything to freak out about:
Republican presidential candidates Rick Perry, left, and Rep. Ron Paul, R-Texas, talk during a break at a Republican presidential candidates debate at the Reagan Library Wednesday, Sept. 7, 2011, in Simi Valley, Calif.
Photo: AP, Jae C. Hong / AP
There's also a second photo in the mix, which carries the same caption, apparently taken shortly after the first. Did Perry "menace" Paul off of his podium, or did he just really need a Tic Tac? Only Ron Paul knows for sure.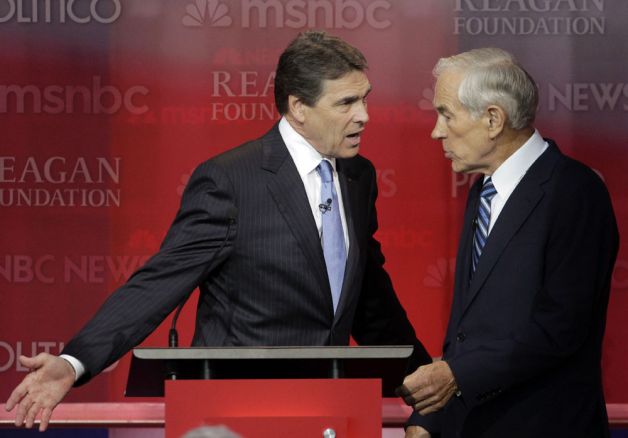 Granted, Paul fans have reason to be suspicious of how the media treats their guy, but no reporter is going to pass up a juicy commercial-break dustup. In any case, accusing Perry of "assault" and "menacing" based solely on these photos is beyond ridiculous. It does show imagination, though, so I'd love to hear what they make of this picture: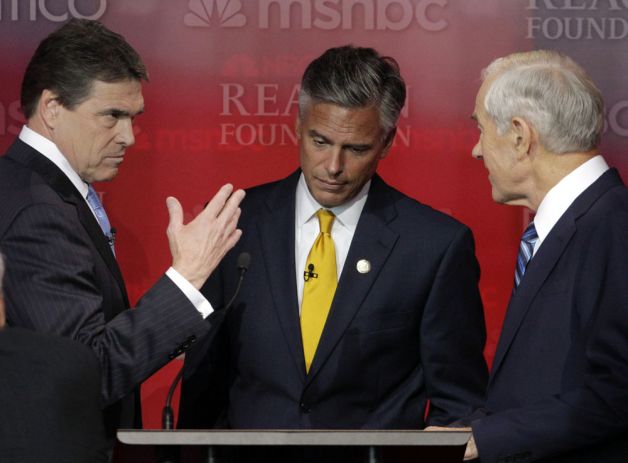 Were they each trying to convince Huntsman to be their "second" in a pistols-at-dawn duel? Joining forces to mock "Science Boy?" Re-enacting the final scene in Reservoir Dogs?
They say a picture is word a thousand words, but they often don't speak for themselves, no matter how much we want them to. We've reached out to both campaigns to find out what really went on during that commercial break, and are awaiting a response.
Have a tip we should know? tips@mediaite.com