Apparently, Melania Trump Plagiarized Again…This Time Copying Marla Maples Of All People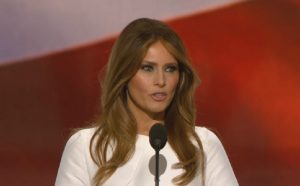 Much of the scuttlebutt around Melania Trump's much-anticipated speech earlier today was around her ironically decrying cyberbullying. Obviously, Twitter had a field day with that, considering her husband's social media habits.
However, it also appears that Mrs. Trump called back to another famous speech she gave. As you may recall, Melania got into a whole bunch of hot water this summer when it was discovered that she had lifted whole portions of her at first well-received RNC address from Michelle Obama. Well, this time around, it looks like she stole from another well-known woman.
Melania just plagiarized Trump's second wife Marla Maples. Here's the only Google results for "if you could dream it, you could become it": pic.twitter.com/ALeHuSZqEm

— (((Yair Rosenberg))) (@Yair_Rosenberg) November 3, 2016
Yair Rosenberg highlighted how another Twitter user — who initially realized Melania lifted the phrase from Marla — knew for certain that Mrs. Trump could only have gotten that phrase from Donald Trump's second wife.
Medieval literary historian & connoisseur of misquotes @yonibrander explains why Melania mangling the famous quote shows where she got it: pic.twitter.com/xfl5rJo4cC

— (((Yair Rosenberg))) (@Yair_Rosenberg) November 3, 2016
There was some reaction on Twitter about this second foray into plagiarism for Melania.
Is this really happening again? https://t.co/OwAvNMFMHF

— Kyle Griffin (@kylegriffin1) November 3, 2016
Melania Trump apparently plagiarized again, and you won't believe the source. https://t.co/qg7fcwjD9G

— Jeet Heer (@HeerJeet) November 3, 2016
Some even noted that she may have gotten it from Rocky Horror Picture Show, which featured a similar line.
Yah, before Melania Trump, Marla Maples plagiarized from Rocky Horror Picture Show: "Don't dream it. Be it." @Yair_Rosenberg pic.twitter.com/EdLBbIGAxz

— Scott Wooledge ? (@Clarknt67) November 3, 2016
@Yair_Rosenberg @DemFromCT that, or Tim Curry.. pic.twitter.com/SV5hodaUtf

— Irreverent Testimony (@IrreverentDuo) November 3, 2016
Seem unlikely that this will get the traction that the first plagiarism scandal did, but it will probably be good for a chuckle or two for some.
UPDATED 10:41 AM: Yoni Brander provided Mediaite with a screen image of the Google search he did during Melania Trump's speech.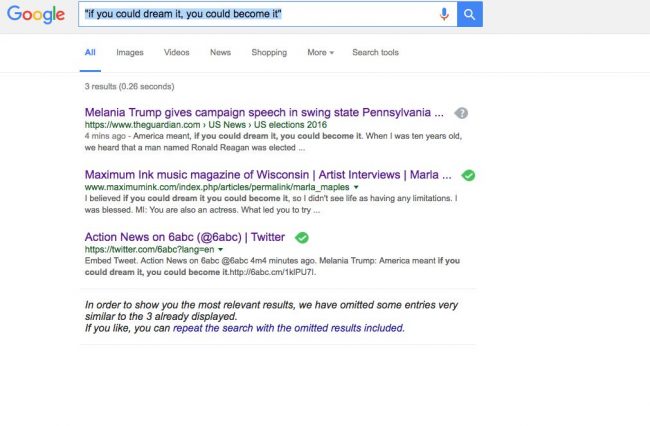 [image via screengrab]
–
Follow Justin Baragona on Twitter: @justinbaragona
Have a tip we should know? tips@mediaite.com