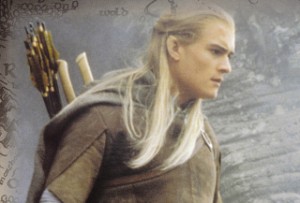 Environmentalists in Iceland are protesting against a road project to build a highway that would cut through a lava field, but according to the Associated Press, there's a rather unique angle to this story: elves are involved. Yes, apparently "elf advocates" are taking a stand against the road project not just because of the environmental concerns, but because of the devastating "impact on elves" the project could have.

The AP report explains, "They fear disturbing elf habitat and claim the area is particularly important because it contains an elf church."
The report repeatedly emphasizes how many people in Iceland believe in elves, but The Wire puts a damper on the entire premise of the AP story, highlighting the words of Icelandic Review writer Benedikt Jóhannesson, who found it amusing how peculiar Iceland is portrayed in the AP report.
The story is false. It is probably written by someone who learned about it in a bar. Or a freelance journalist, trying to make a quick buck before Christmas, wrote about something that everyone loves reading about, the mixture of myth and reality by an odd nation on the fringe of civilization.
He laughs at the idea there is an "elf lobby" behind all of this, and takes issue with some of the facts presented in the AP piece, and even suggests Icelanders might say they believe in elves just because they think it's funny to see how Americans react to hearing it.
[photo via Neftali, Shutterstock]
— —
Follow Josh Feldman on Twitter: @feldmaniac
Have a tip we should know? tips@mediaite.com
Josh Feldman - Senior Editor