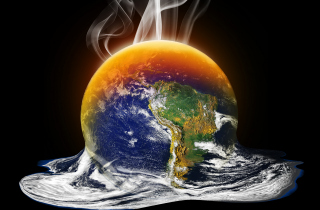 Lawrence Torcello wants the ice in justice to stay right where it is.
The assistant philosophy professor from Rochester Institute of Technology — in his March 13th essay titled "Is misinformation about the climate criminally negligent?"—puts the heat on "politically and financially motivated denialists" who fund "misinformation" campaigns against global warming. The message? "We have good reason to consider the funding of climate denial to be criminally and morally negligent."
Published in The Conversation, an online academic journal, the article is sure to make waves, especially after the White House announced just days later a new climate change database that synthesizes the research of several federal agencies.
It begs the question: Are we primed for this generation's Scopes Monkey Trial? If so, keep your basement stocked, and send an advance to your cable provider.
Torcello, throughout the piece, employs the L'Aquila, Italy earthquake to outline his case and, most essentially, the subsequent trial that saw six Italian scientists and a local defense minister sentenced to six years in prison for providing "inexact, incomplete, and contradictory information." Torcello asserts "more deaths can be attributed to climate change than the L'Aquila earthquake," adding the death toll, like our water levels, will continue to rise.
However, the case of climate change, unlike the L'Aquila tragedy, would call degree upon degree of separation to the stand and before the Bible.
Whether through the pursuit of campaign money or causation in deaths that may involve climate-related patterns of food production, water-borne diseases, and extreme weather conditions, a trial like this would conjure an imperfect storm of smarmy lawyers, exhaustive experts, and gluttonous media-folk for which the Pavlovian response to the word, "trial," is easily triggered. See Pistorious, Oscar.
Thus, if the issue of climate change evolves into The State of Tennessee v. John Thomas Scopes, it will likely be for the same reason. Publicity is the first painful step to fact. A trial, saturated by a divisive and derisive 24-hour news cycle, will melt under its own importance and expose the barest of all realities — the earth is warming and all are at least a little bit accountable.
No one should go to jail– the truth should be arresting.
[Image via Shutterstock]
— —
>> Clark Young is, above all things, a Mainer and Red Sox fan. Follow him on Twitter here.
Have a tip we should know? tips@mediaite.com