Argentinian President Denies Report Trump Pushed for Business Favors During Phone Call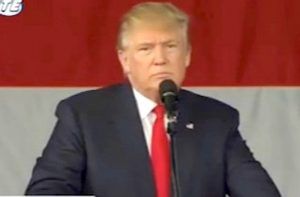 In a statement Monday, Argentinian President Mauricio Macri denied a report going viral in the U.S. media that Republican president-elect Donald Trump took advantage of his congratulatory call to ask him to fast-track one of his construction projects in the country.
Argentinian journalist Jorge Lanata first made the claim on his TV show Periodismo Para Todos Sunday night. "Macri called him. This still hasn't come out, but Trump asked for him to authorize a building he's constructing in Buenos Aires. It wasn't just a geopolitical chat," he said.
Lanata never said who his source was, but his claim was picked up by Argentinian media. The accusation exploded in the U.S. the following day when picked up by liberal website TalkingPointsMemo. "Why aren't we hearing about this in the American press?" they asked.
TPM quickly got their wish: the story was picked up by USA Today, The Hill, The New York Post, Newsweek, Buzzfeed, and The New York Daily News, to name but a few outlets.
But Macri spokesman Ivan Pavlovsky denies it ever happened. "The subject both leaders talked about was the institutional relationship, and they briefly mentioned the personal relationship they have had for years," he said in a statement. The Trump transition team later put out their own statement denying the accusation.
English-speaking journalists in Argentina weighed in on the controversy, with some saying Lanata could be trusted, but others saying he was sometimes unreliable.
A warning to US journalists: I've been watching Jorge Lanata for 15+ years. He's great, but his stuff doesn't always check out https://t.co/OllIJiXQtZ

— Brian Winter (@BrazilBrian) November 21, 2016
Lanata is well respected. He uncovered political, financial scandal tied to #Kirchners that ended w/ biz associate in jail. https://t.co/Q25JIT36FQ

— Carlos Suarez (@CarlosWPLG) November 21, 2016
Original report on Trump/Macri/Argentina from last night … I'd take the stuff from Lanata with a grain of salt. https://t.co/88T6vqlvNT

— Emily Stewart (@EmilyStewartM) November 21, 2016
Lanata himself is reportedly not answering phone calls from journalists.
[Image via screengrab]
—
>>Follow Alex Griswold (@HashtagGriswold) on Twitter
Have a tip we should know? tips@mediaite.com