Atheist Fires Back at O'Reilly for War on Christmas™ 'Obsession,' Persecution 'Fantasy'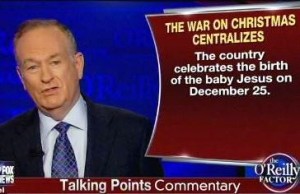 Christmas is only 16 days away, meaning we just have two short weeks and change to once and for all put an end to the War on Christmas™. Bill O'Reilly's been at the forefront of this battle, throwing punch after punch at the battalion of anti-Christmas forces, and the group American Atheists is fighting back, charging that O'Reilly's just obsessed and has a persecution complex.
Dave Muscato, public relations director for American Atheists, spoke to Raw Story about O'Reilly's most recent Christmas crusade, in which O'Reilly psychoanalyzed atheists to try and figure out why they're so "angry" and "bitter" about religion and people celebrating Christmas. Here's the segment in case you missed it, via Fox News:
As far as Muscato's concerned, O'Reilly's just desperately trying to latch onto something as proof of oppression in the United States.
"Bill O'Reilly has this fantasy that Christians are being persecuted," Muscato said, when in fact, "Bill O'Reilly is the epitome of a privileged person; a straight, white, cisgender American. The reason that he's obsessed with this 'War on Christmas' is because he knows there's nothing he's really being oppressed by."
He dismissed the idea that atheists are "angry" about religion, just passionate, and made it clear no one is attacking Christmas; the goal is upholding the lawful separation of church and state.
Muscato continued, "Religion does more than just hurt people… Religion kills people. There are reports from all over the globe of religious persecution ending in people's deaths."
O'Reilly has personally taken on American Atheists before. Group president David Silverman has been on O'Reilly's show before, and last yea when the two men tussled, O'Reilly exploded and accused Silverman of being part of a "merry band of fascists" trying to destroy the holidays.
You can watch that classic exchange below, via Fox News:
[h/t Raw Story]
[photo via screengrab]
— —
Follow Josh Feldman on Twitter: @feldmaniac
Have a tip we should know? [email protected]
Josh Feldman - Senior Editor