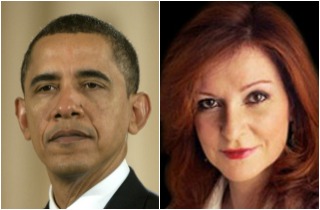 President Barack Obama is a devoted reader of the New York Times opinion section. But what we didn't know until his former senior advisor David Axelrod released a new memoir was that the president actually is not very fond of one of the newspaper's most prominent columnists.
In Believer: My Forty Years in Politics, Axelrod reveals that Times columnist Maureen Dowd was — out of all the potential people who aggravate the president — the person who "got under" Obama's skin the most.
Axelrod even calls his former boss "self-possessed," and said Obama — while being interviewed by Dowd as a candidate in 2008 — "blistered" her for a column she had written. Axelrod also suggested Dowd "altered her coverage" as a result of a meeting with the president.
Here's the section in question, as first spotted by HuffPost's Michael Calderone:
"No one got under Barack's skin more than Maureen … Her penchant for delving into the psyches of her subjects was particularly irritating to the self-possessed Obama … Normally polite under any circumstances, he was patronizing and disrespectful to Maureen in a way I had rarely seen. This was not well received by Dowd who, like most journalists, was accustomed to firing off salvos, yet decidedly uncomfortable when fired upon herself. After that awkward encounter, she seemed to take particular delight in psychoanalyzing Barack and belittling him in print, which only deepened his contempt. Maureen, who is as gracious and loyal to her friends as she is rough on the high and mighty, would become a friend of mine in Washington, which became a minor source of tension with Obama. 'Why are you friends with her?' he would demand after Maureen sent one of her acid darts his way."
Dowd responded to HuffPost's request for comment, saying she does remember the 2008 exchange but denies having changed her approach in covering Obama. Dowd said that approach "is not true and plays into an unfortunate stereotype of women." She also blasted the president because he no longer invites her to off-the-record background sessions at the White House.
"If anyone acted out of spite, I'd say it was the White House, which … no longer invites me to the President's background briefings for the columnists while continuing to invite my male colleagues, even though they, too, have written some critical things about the President," she continued. "But here again, while I'd like to be included, that is not a consideration in what I write."
[Images via Shutterstock / Twitter]
— —
>>Follow Andrew Desiderio (@forza_desiderio) on Twitter
Have a tip we should know? tips@mediaite.com