Barstool Sports Blasts 'Plagiarizing House of Lies' BuzzFeed Over Copyright Complaints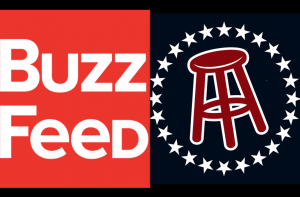 "This is literally the craziest email I've ever received. Flat out NUTS," is how the response from Barstool Sports' El Presidente — better known as David Portnoy — began Thursday in response to a cease and desist letter sent to the website from media giant BuzzFeed.
The issue at hand stems from a photo that Barstool Sports, the male-centric satirical sports website based out of Boston, used that BuzzFeed claims is its "intellectual property." The letter from BuzzFeed's legal department continues, "While we appreciate your enthusiasm for our content, we cannot allow you to make illegal use of it as you have."
El Presidente's response is the stuff of legend, defiantly meeting a legal notice with a "F-U" as epic as the New York Daily News slamming the shit out of a certain smarmy Texas Senator.
"Buzzfeed has no joke stolen from us at least 500 times. Probably closer to 1,000 times but I've lost count. I contacted them 5 years ago or so when they used to steal stuff from us daily and they basically told me to shove it," Portnoy writes.
Complete with active hyperlinks that redirect to examples that support his assertions, Portnoy poetically continues:
[BuzzFeed's] entire business has been built on stealing other people's content. They have openly admitted they built their empire on stealing other people's stuff. They deleted over 5,000 plagiarized posts and hoped nobody would notice. FIVE THOUSAND. They have fired people over plagiarism. They steal random pictures they find on the internet. They steal everything from Reddit. And now a picture that Feitleberg saw on Black Twitter and didn't even know had anything to do with Buzzfeed they are threatening us about? BANANALAND. Apparently Buzzfeed has no problem building their empire by plagiarizing other websites, but the second they hire actual writers they no longer think it's okay to do this. They make a subtle distinction that they went from an aggregating site to a media site. AKA – It was okay to steal when it made them rich, but not anymore now that they've created their brand and can pay staff. Honestly it makes me want to puke. This is the house you built Buzzfeed. It's a house built on lies, deceits and plagiarism. Don't cry to me when 1 fucking picture that nobody even knows where it came from ends up on our site.
While BuzzFeed's initial outreach is pretty standard operating procedure for legal departments in the digital age, the retaliatory response from Barstool Sports is hilarious and vicious; it cuts to the heart of the long-running grievances that many in the industry have had with BuzzFeed, and does so in the funniest way possible. El Presidente ends his diatribe with the acerbic final sendoff, "In closing fuck you."
Your move, BuzzFeed, and may we recommend something stronger than a OMG!, LOL, Cute!, or a newly-published quiz asking "How Into Plagiarizing Posts From Other Sites Are YOU?" But in the meantime, the score remains:
BuzzFeed 0, Barstool Sports 1.
—
>> Follow J.D. Durkin on Twitter (@jiveDurkey)
This is an opinion piece. The views expressed in this article are those of just the author.