Beck Knows 'Middle Eastern' Terrorists Bombed Boston Because 'When Our Crazies Go Off, They Target The Govt'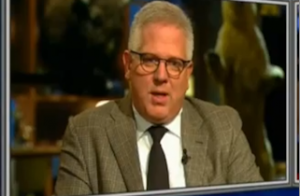 Monday night during his BlazeTV show, Glenn Beck offered his thoughts on the Boston Marathon bombings and who might have been responsible. He rejected the notion suggested by some that the attack was perpetrated by an American citizen "all hacked off at the government." Instead, he suggested that "Middle Eastern" terrorists had to be behind the attack because "when our crazies go off, they target the government."
"No American citizen blows up random people," Beck asserted, "that's a Middle Eastern scene." He went on to express his wariness of the Obama administration in the wake of the attack, alluding to the "workplace shooting" designation that was given to the 2009 Fort Hood rampage. "Do you believe we will know the true story of what really happened today?" Beck asked.
Beck called out President Obama for saying "there's no such thing as terrorism… there's no such thing as Al Qaeda, all of this bull crap." While the president did hesitate to call the Bostom bombings an "act of terror" yesterday until he knew more information, he did use those words during an address today. "How does the government that's been in denial spin this?" Beck wondered.
Anchors on CNN, Fox News and elsewhere speculated about the connection between yesterday's attack in Boston and the 1995's Oklahoma City bombing. While the perpetrator of that attack, American citizen Timothy McVeigh, targeted a federal building, he also did "blow up random people," including 19 children under the age of 6.
Watch video below, via TheBlaze TV:
[h/t Right Wing Watch]
—
>> Follow Matt Wilstein (@TheMattWilstein) on Twitter
Have a tip we should know? tips@mediaite.com