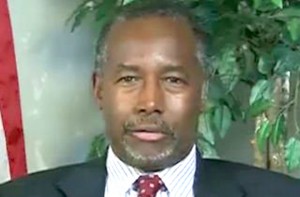 The campaign of Republican presidential candidate Ben Carson has admitted that contrary to his claims in his autobiography Gifted Hands, Carson never received a full scholarship to West Point.
In his book, Carson talks about meeting Gen. William Westmoreland, the commander of U.S. forces in Vietnam, and having dinner with him and two Medal of Honor winners. "Later, I was offered a full scholarship to West Point," Carson writes, before adding that he turned down the offer to pursue a career in medicine.
But when Politico reached out to West Point, the military academy found no evidence that Carson had even applied, let alone that he had received any sort of scholarship. "If he chose to pursue [the application process] then we would have records indicating such," she said.
In a statement to Politico, the Carson campaign admitted that the version of the facts laid out in Gifted Hands and later recollections was inaccurate:
"Dr. Carson was the top ROTC student in the City of Detroit. In that role he was invited to meet General Westmoreland. He believes it was at a banquet. He can't remember with specificity their brief conversation but it centered around Dr. Carson's performance as ROTC City Executive Officer.

He was introduced to folks from West Point by his ROTC Supervisors. They told him they could help him get an appointment based on his grades and performance in ROTC. He considered it but in the end did not seek admission."
UPDATE — 4:40 p.m. ET: Politico changed the headline and lede of the original story, eliminating the word "fabricated." See Mediaite's coverage here.
[Image via screengrab]
——
>>Follow Alex Griswold (@HashtagGriswold) on Twitter
Have a tip we should know? tips@mediaite.com